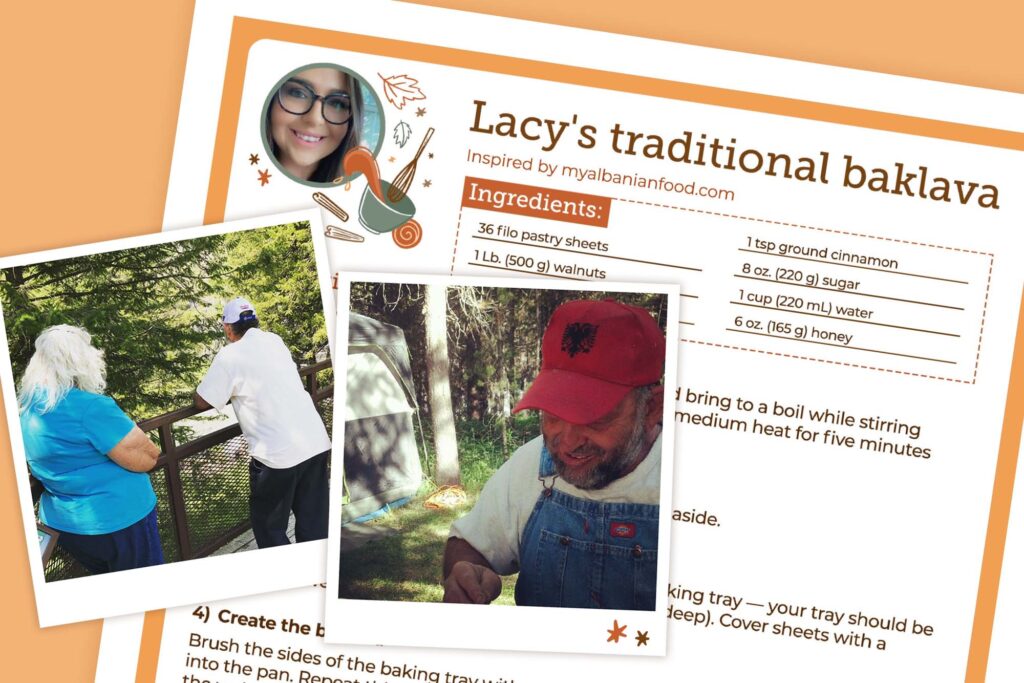 Generosity is at the core of Scentsy's company culture, so during the season of giving, we wanted to do something special. With feasts and family gatherings right around the corner, we asked Scentsy VP of Consultant Sales Lacy Hanson to share one of her favorite seasonal recipes: a traditional baklava.
When Lacy's family immigrated to Utah from Albania in the 1920s, they kept their traditions alive. "My great grandmother Sofia Pulluqi Terzi always made her family's baklava recipe that we still use today," Lacy said. While she wasn't able to give us a glimpse of the original recipe card, these instructions inspired by myalbanianfood.com detail the exact process her family uses. In fact, Lacy said, "It still brings back all the memories of spending holidays in Utah with my family."
Ingredients:
36 filo pastry sheets
1 Lb. (500 g) walnuts
7 oz. (200 g) melted butter
1 tsp ground cinnamon
8 oz. (220 g) sugar
1 cup (220 mL) water
6 oz. (165 g) honey
Instructions:
Make the honey syrup
Combine honey, water and sugar in a saucepan and bring to a boil while stirring continuously. Once the sugar has dissolved, boil on medium heat for five minutes before moving to the side to cool.
2. Make the filling
Mix ground walnuts and cinnamon together and set aside.
3. Prepare the pastry
Cut pastry sheets to match the dimensions of your baking tray — your tray should be about 12″ x 8″ and 2.5″ deep (30 cm x 20 cm and 6 cm deep). Cover sheets with a damp tea towel to keep the pastry moist.
4. Create the baklava
Brush the sides of the baking tray with melted butter. Butter one pastry sheet and lay into the pan. Repeat this until you have eight layers of sheets. Sprinkle about 1/4 of the walnut and cinnamon mixture over the pastry.
Butter and layer four more sheets, then add another 1/4 of the nut mixture — repeat these steps two more times. Butter and layer the remaining eight sheets of pastry, coating the top with butter, too.
Cut the baklava into your preferred serving size. If you'd like to achieve the traditional diamond baklava shape, cut four rows down the length of the tray, then cut diagonally across.
5. Bake
Preheat the oven to 320° F (160° C) and cook for one hour and 15 minutes. Check every five minutes after the first hour to ensure cooked, removing only when the pastry is gold and crispy.
6. Coat and cool
Pour the syrup over the baklava immediately after removing from the oven (you should hear sizzling). Let set for four hours before serving.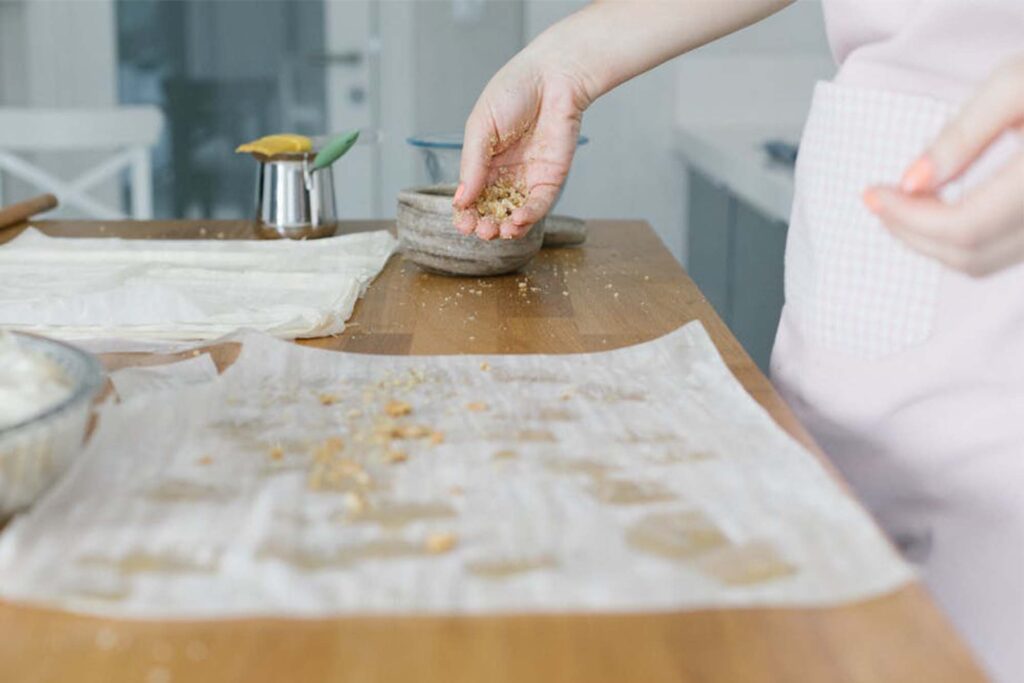 Whether you're looking to add a tasty treat to your holiday spread or a delicious dessert to enjoy any time of year, Lacy's traditional baklava is sure to be a hit! Have a dish you'd like to share with us? Give us the recipe in the comments!