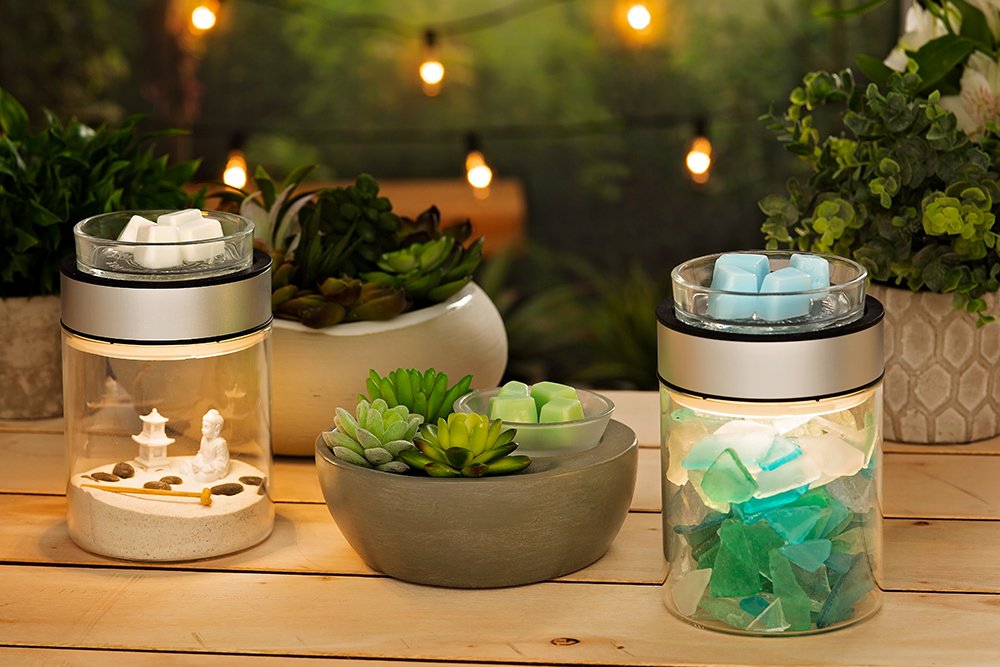 Throw a DIY party around this popular home accessory
We love the look of incorporating a cloche into your decor to show off collections and treasures of all kinds. (Originally used to protect small plants, a cloche is a glass or plastic cover used indoors to display and protect ornamental objects.)
We love it so much, we created our own take – the Scentsy Make a Scene Warmer, a more modern version of the classic bell-shaped cloche. What better way to put a unique stamp on your home than by combining a custom-designed creation with your favorite Scentsy fragrance? It's a design accessory that does double duty!
Do you love it? Then why not host a design-your-own event?
Plan ahead of time, and have each guest purchase a Make a Scene Warmer. You can share supplies, ideas, and quality time with friends and family while each person creates a work of art to keep or give away for the holidays (which will be here before you know it!).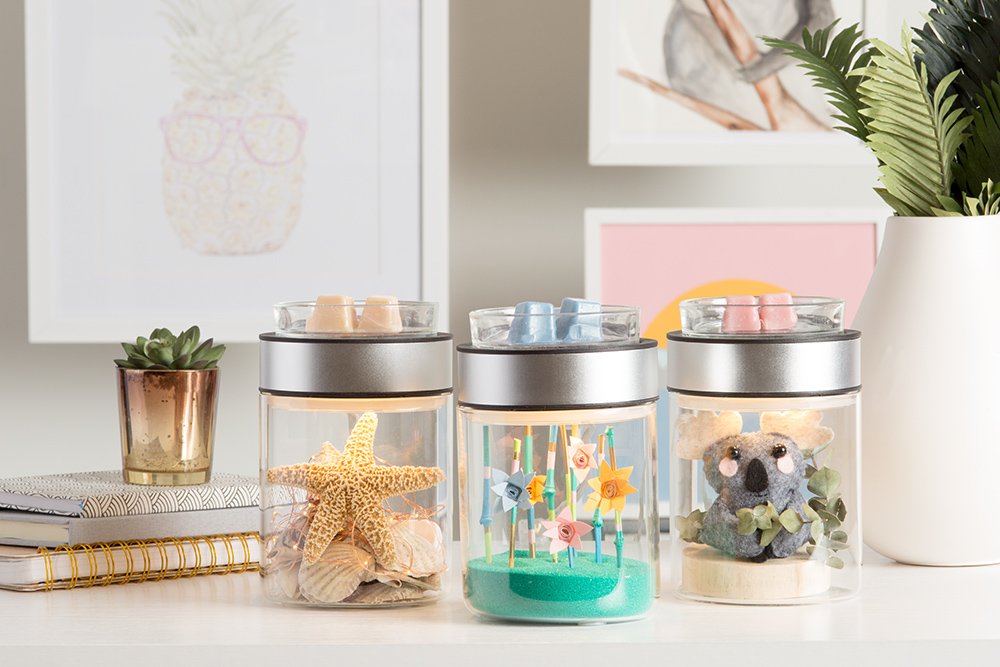 Here are some ideas to get you started, but there really are no rules! It's your own little world, so add your own personal flair.
Garden variety
Make a mini-world of lush green. Today's fake plants and succulents look just like the real thing and require zero maintenance. How good does that sound? There is nothing worse than having to clean up all the mess that real plants leave behind. But that's the good thing about having fake plants – you don't get any mess and they look as beautiful and as life-like as real ones. But when working with these fake plants, start with a layer of pebbles or a blanket of dried moss on the bottom of the warmer, then start "planting." Fake succulents, cactus and plants are easy to find and come in all sorts of shapes, colors and sizes. Leave it as-is for a pretty pop of green or customize your creation with little figurines, tiny toys, glass beads or miniatures from the local craft store. You're limited only by your imagination!
Sand art
Get craft sand at your local craft store and load up on all the colors so you have plenty on hand for your guests to choose from. Have them pick at least three colors to layer. First, add a base layer of sand evenly across the bottom of the warmer, then begin pouring the different colors of sand, layering in varying heights to create your own designs. Leave as an abstract art piece or adorn with accessories as you wish. Small seashells, polished rocks or smooth sea glass make your design extra beachy.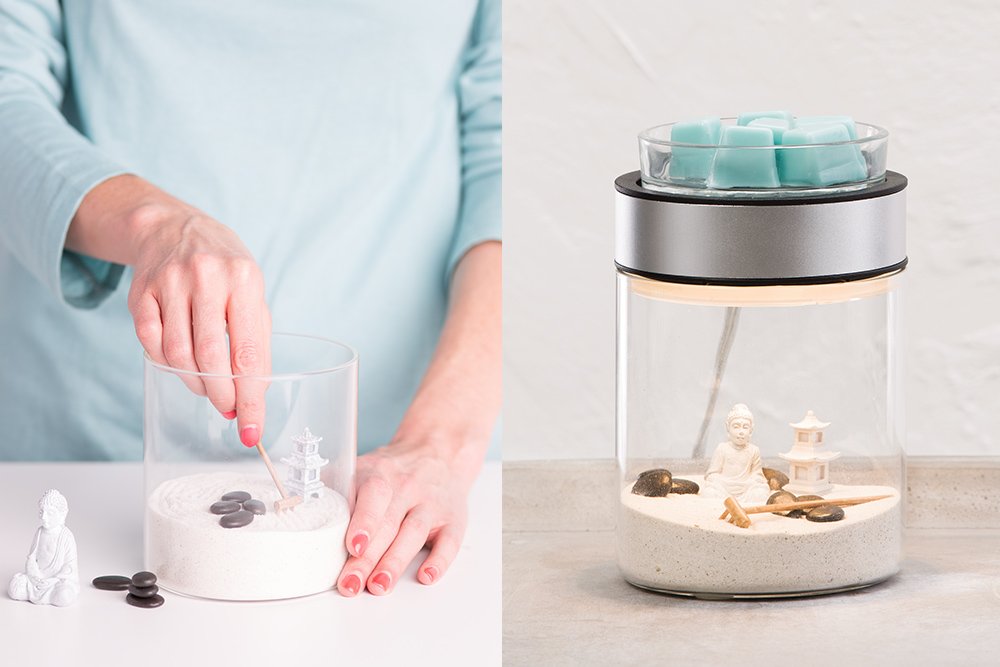 Objects of desire
For those who want to keep it simple, yet impactful, have them bring an item they collect or find visually appealing. They can fill their entire warmer with that one item: Simple sea glass, colorful marbles, rock collections or crystals, for example, can be gathered for a pretty presentation of collected treasures.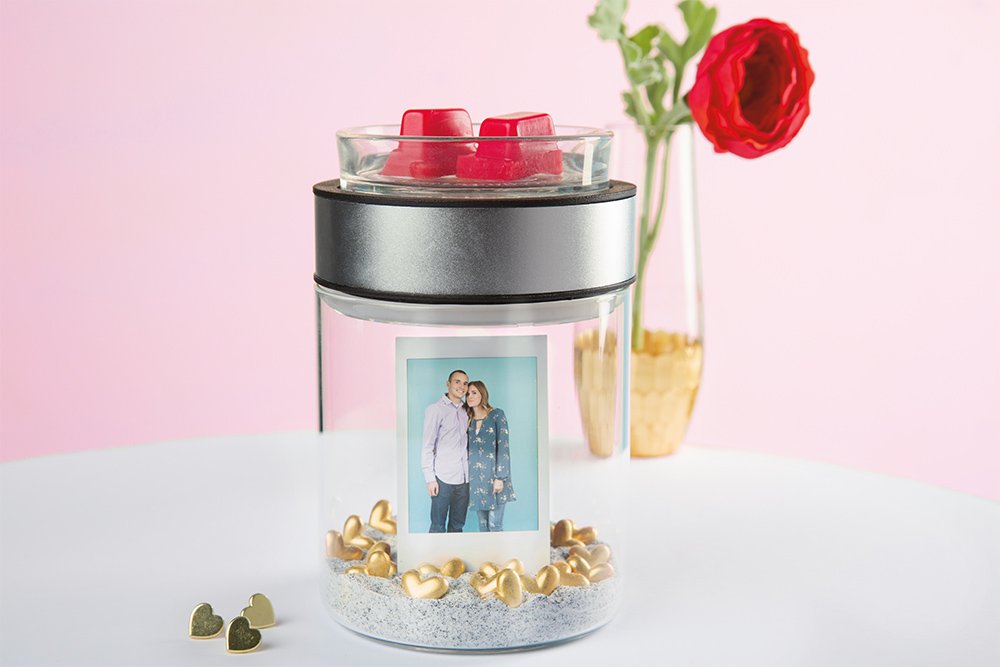 Theme it up!
Have a Star Wars fan on your guest list? A horse lover, cat lady or dog person? Craft stores carry just about every miniature you can imagine, for a truly unique scene, themed to the max to reflect all interests. Make a fairy garden for a little girl's room or a forest with all the creatures.
Or, theme your warmer for the season. Add fall leaves, fake spiderwebs, mini tombstones and ghosts for Halloween, or fill it to the brim with colorful candy corn for a fun pop of color. Build a Nativity scene for Christmas or a winter wonderland for the holidays.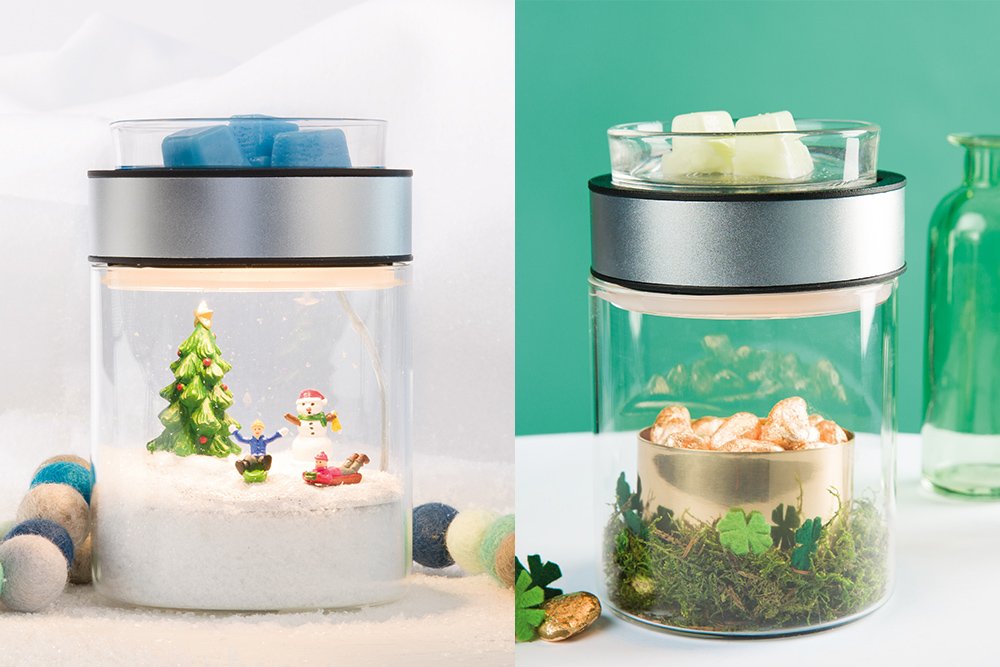 The Make a Scene Warmer may prove to be the hardest-working home accessory you own!
If hosting a party sounds hectic right now, purchase a few Make a Scene Warmers for holiday gifts. Include a party invitation with each warmer and have your party after the holidays. It really is the gift that keeps on giving!
And for more DIY décor fun, check out our Zen Garden Scene and Little Garden Warmer. Contact your Scentsy Consultant today for these and other on-trend home accessories, as well as Scentsy Bars to match your themes. If you don't have a Scentsy Consultant, find one here.