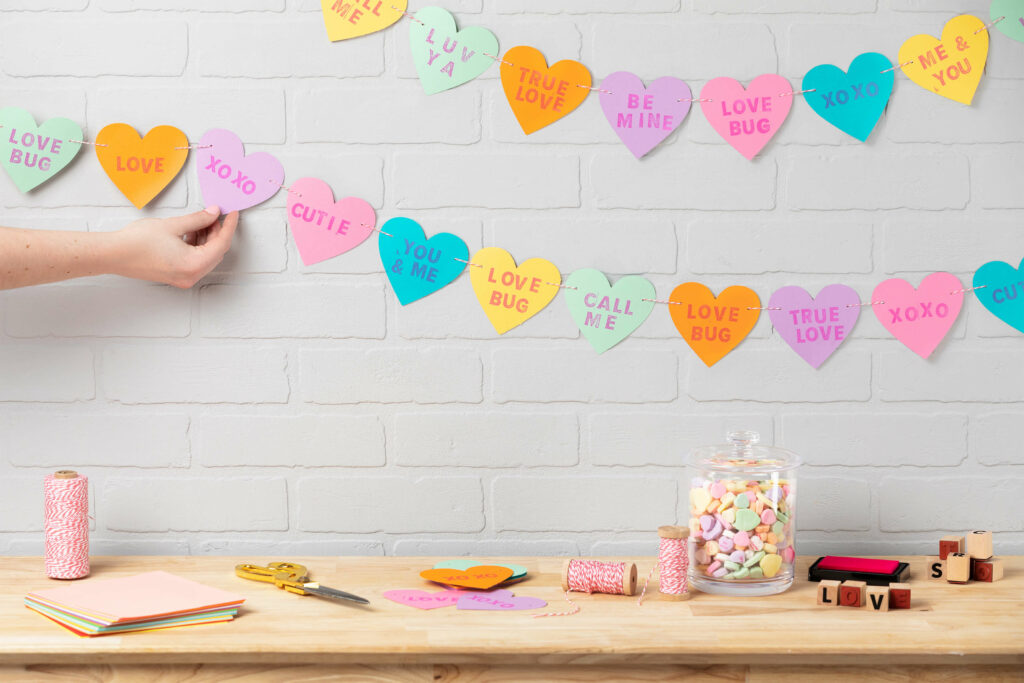 Every year, you search for the perfect gift for your Valentine. It needs just the right blend of thoughtfulness and heart, and bonus points if it doesn't break the bank (Christmas just happened). You should know what your loved one will be absolutely thrilled with, some people are happy with just chocolates, other prefer getting clothing that they can add to their wardrobe (even getting them something like this Louis Vuitton Neverfull Replica will keep them happy AND it won't break the bank either)! But sometimes you can get a bit stuck on what your loved one will want. Perhaps they already have everything they need, perhaps they don't tell you what they want. You still want to make sure that they are happy though, and feel spoiled. But don't worry, finding the perfect gift is going to be a lot simpler for you.
Go ahead and call off the search for 2020! This Valentine's Day, go DIY – it's a no-brainer. There's nothing like a handmade gift to show your loved ones how much you care. And even if you're not very crafty, it's a win-win.
Let's say you make something, and it doesn't turn out exactly as you hoped – you still get points for effort! If you show your love by trying to make a special gift, your Valentine will swoon.
We rounded up the cutest, cleverest, simplest DIY Valentine's Day gifts for you, so you can focus on finishing up your project before Feb. 14. There are a ton of winners out there, but our No. 1 pick is Candy Heart Garland. This gift's got it all: drama, color, surprise, sentimentality, nostalgia. Plus, no one has to actually eat the chalky candies that inspired it. (Do yourself a favor and pick up some good chocolate instead.) And, it's a great gift for your partner, or you can modify it for kids!
You can find the plans below, but ask yourself this one little question first to make it extra special for your Valentine.
What's your love language?
Most couples have years of inside jokes, movie quotes, nicknames, pet names and shared experiences that result in a sort of code language only they understand.
Take a few minutes to jot down as many words or phrases you can, ones that mean something to you and your Valentine, to use on your garland. Then, instead of stamping each heart with a generic "Be mine," you can stamp "Stay flossy!" or "Cuddle bunny" or "Turtle power!" or whatever other weird things you share. You'll be wiping their happy tears off the floor!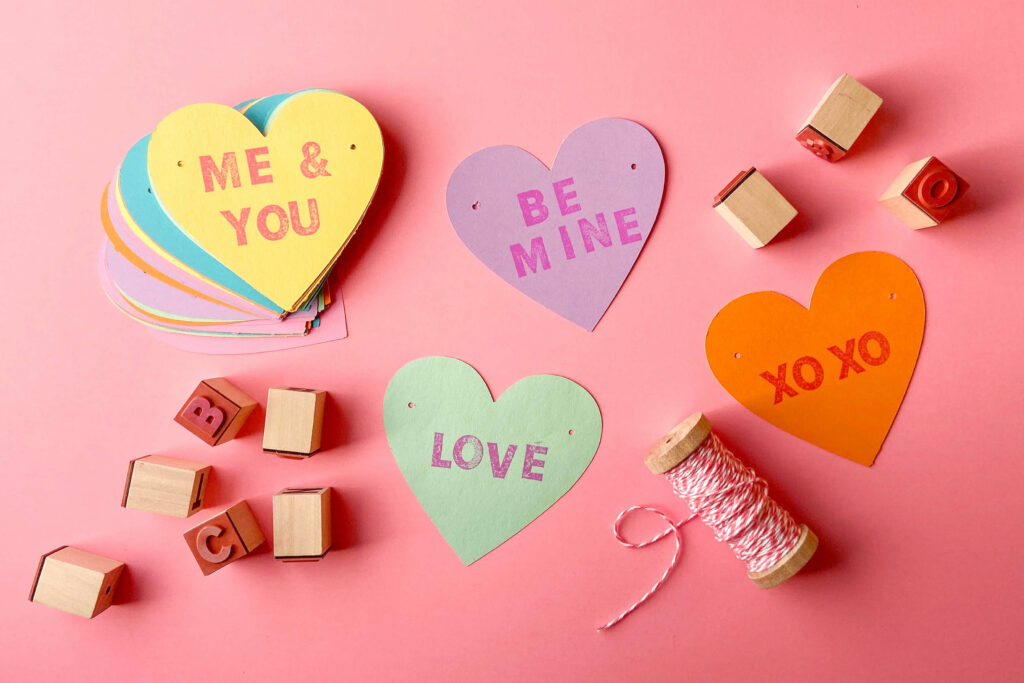 Now, start making:
Candy Heart Garland
Here's what you need, including alternative supplies you probably already have at home:
Colorful, sturdy paper, like construction paper or cardstock
Heart punch (or a pair of scissors)
Letter stamps and ink pad (or markers)
String or ribbon
Single hole punch
And here's how to put it all together:
Cut out your hearts using a heart punch from the craft store or that good-old elementary school trick: Gently fold a piece of paper in half, cut out a half-heart shape, unfold and voilà! A perfectly imperfect handmade heart.
Stamp each heart with a word or phrase of your choice. If you don't have enough ideas, try repeating phrases on the same-colored hearts to create a pattern.
Punch two holes at the top of each heart.
String them into garland, tying knots to keep them in place and evenly spaced.
Hang your garland where your Valentine is sure to see it, like above the bathroom mirror, in a doorway, on the mantle or strung across the headboard.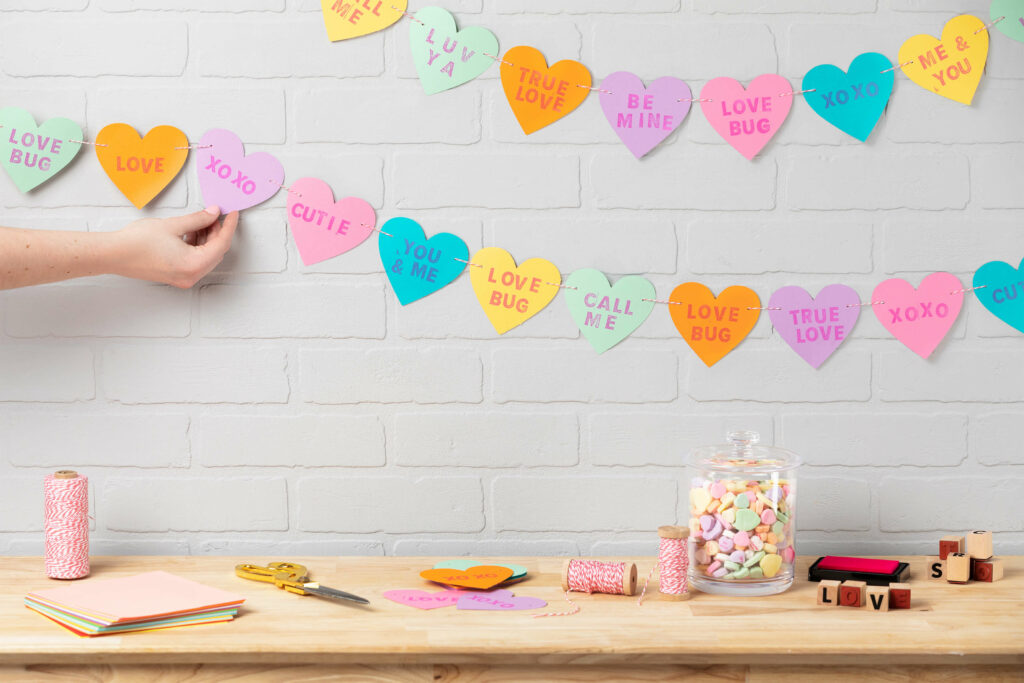 It's that easy! Add chocolate and a hand-written love note and put Valentine's Day 2020 in the books.
For other super-cute DIY gift or décor ideas from fellow makers, follow the links below:
Say it with scent
Need a little extra to put your gift over the top? Wow all your Valentines – from your special sweetheart to the other loves in your life – with a new Valentine's Day gift from Scentsy. Thoughtfully handpicked and packaged, they're ready to melt hearts on Feb. 14.
To shop, reach out to your Scentsy Consultant or visit their website. Don't have a Consultant? Find one here.
Happy Valentine's Day!