April is National Autism Awareness Month
Have you heard the Scentsy story?
When Heidi and Orville Thompson launched Scentsy in 2004, they needed lots of help. They had plenty of enthusiasm and passion and heart — but were short on money. So they worked day and night with family and friends (who volunteered their time because they believed in Scentsy and what Heidi and Orville wanted to achieve) to turn Scentsy into what it is today.
Contribute more than you take
Heidi and Orville built Scentsy on three core values:
Simplicity
Authenticity
Generosity
They wanted to share their BIG gratitude for the love, kindness and support they receive from so many people every day. They also wanted to give Scentsy Consultants an opportunity to give back to the causes they care about. So they launched the Scentsy Family Foundation in 2009.
As part of the foundation, we design a Charitable Cause Product each season to feature in our catalog. Sometimes it's a Scentsy Warmer and sometimes it's a Scentsy Buddy — but this season it's both! With the sale of each Bernie the Buddyfly and Piece by Piece Warmer, we make a donation to Autism Speaks.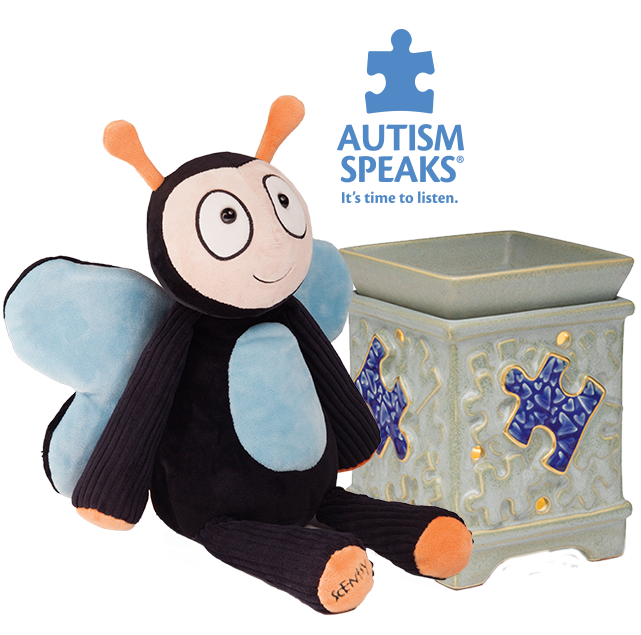 Autism Speaks® It's time to listen.
Since 2005, Autism Speaks has been working to change the future for anyone who struggles with an autism spectrum disorder. They're spreading hope, awareness and LOVE every day!
Since 2011, we have raised more than $850,000 (USD) for Autism Speaks and other organizations that benefit people affected by an autism spectrum disorder.
We could not be more proud of our contribution, or more grateful for your support! April is National Autism Awareness Month — why not share a bit of extra love this month?
Contact your Scentsy Consultant to find out how you can help. Don't have a Consultant? Find one at scentsy.com.