Father's Day is Sunday, June 18, and every year, it's the same stubborn question: Do you get the gift you want to give, or the one he wants to get? It's really unfair, but they're almost never the same thing.
This time, keep it simple. Isn't that what Dad would do? Odds are he's not looking for a gift that can be wrapped, but one that can be enjoyed, guilt-free. Here are a few ideas to get you started:
Quality time
Often, we see Mom as the nurturer and caretaker who spends hours of her day thinking about her kids. Meanwhile, dads get put into one of two categories: the stern disciplinarian, or the too-busy-to-handle-it workaholic. But dads can be some of the most caring, nurturing, and affectionate people in our lives. For a day all about Dad, try treating him to some of his favorite activities, catered in a way he'll get the most out of each moment!
Maybe it's sitting with a cooler by the lake, fishing pole in hand. Or plugged into a favorite video game for hours on end. Or playing a pick-up game of 3-on-3 at the park. Mix it up! Let him know it's ok to take some time on his own free from responsibilities, but after that, it's time for entertainment surrounded by those that cherish and adore him the most. Sometimes the best gift is doing the things you love with the people you love!
Food
We all know the quickest way to someone's heart is through their stomach. Find Dad's favorite foods and get cooking! Who doesn't love a good steak and baked potato? Or hit the grill and cook up some of Scentsy's favorite summer recipes. If he's a health nut, try these healthy tips and recipes from our amazing chefs at the Underground Eatery here Scentsy home office. Don't forget to get him a slice of his favorite dessert too, guilt free!
Main event
Breaking up the monotony of day-to-day life is what holidays are all about! Do something grand for Dad this Father's Day by taking him out on the town! Get tickets to a game and watch your favorite teams battle for victory while enjoying the best game-day food and drinks. Head to wine country or a nearby brewery and learn how the masters make some of your favorite beverages. Or hit the road and travel to dad's favorite destinations — don't forget a souvenir — and remember, presents are great, but memories last a lifetime!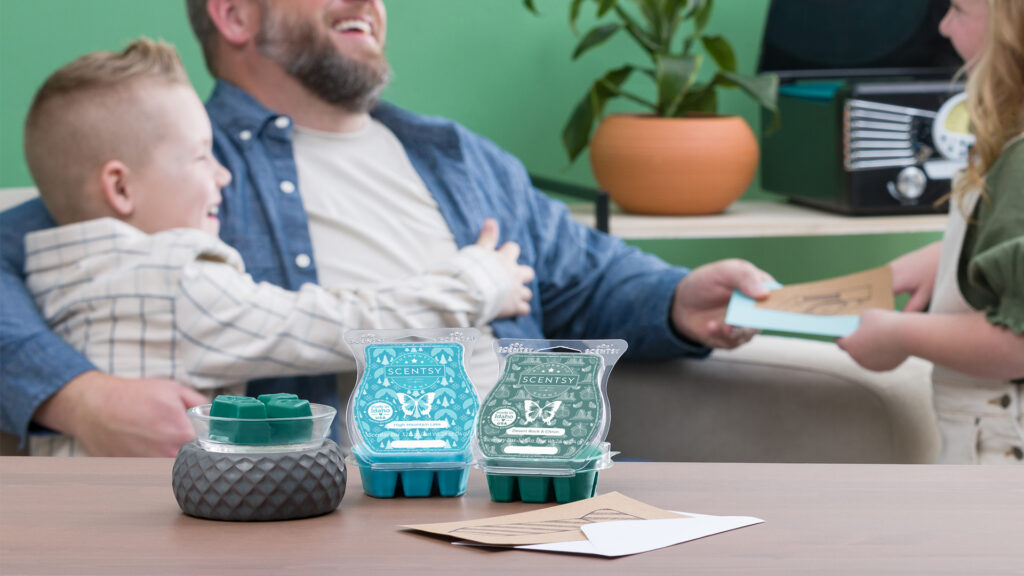 Now that you've given him what he wants …
Top it off with what he needs (aka what you want to give him). The typical dad might not place fresh fragrances at the top of his priorities, but you know it can refresh his space, lift his mood and even help his self-image.
Does he love John Wayne but horses and ranching aren't part of his day-to-day? Give him a Weathered Leather Car Bar for his truck, and he'll be living that cowboy dream every time he drives. Does he need to impress the bigwigs on his next business trip? Slip a Clean Breeze Scent Pak in his suitcase to instantly up his swagger.
There's no price on the work and energy it takes for him to be Dad, but you can show him you know the value of his efforts this Father's Day! Think about what he loves, give him what he wants then shop our Father's Day Collection to give him what he needs.
What's your go-to Father's Day gift? What are your favorite memories of dad? Let us know in the comments below!