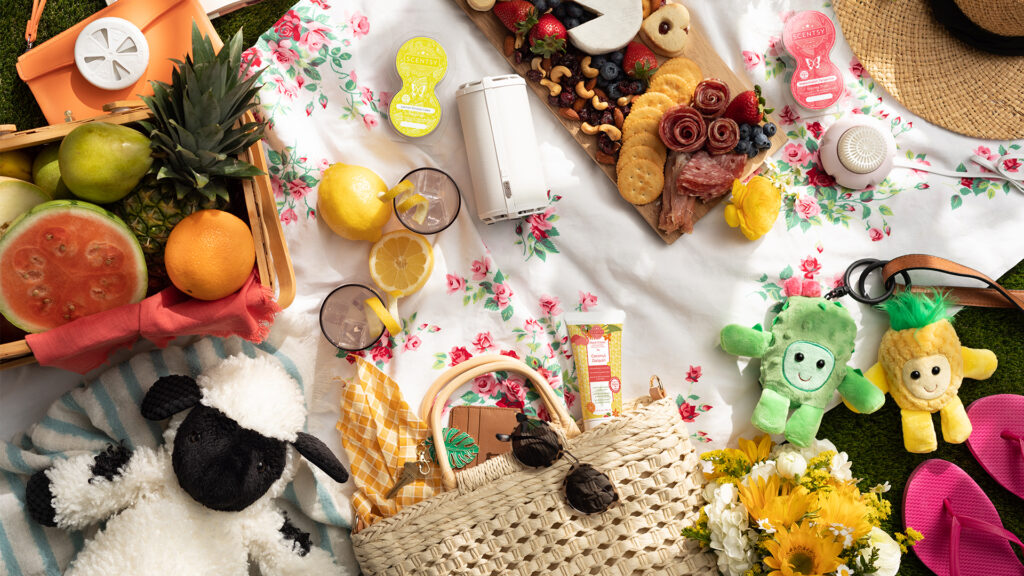 A picnic is one of the simplest summer activities, but that doesn't mean it has to be boring. With summer in full swing, here are some tips to help you elevate your picnic and make it memorable. Plus, we'll toss in some picnic food ideas from the Scentsy Commons Underground Eatery. Dust off your picnic baskets — it's time to get picnic-season ready!
Fair weather, friends
Summer weather is not always on your side. Thunderstorms, rain showers and blustery conditions can make the outdoors unpleasant. Check the forecast in the week leading up to your picnic. With any luck, the weather will be perfect, with fluffy white clouds and a slight breeze. But if the day is sultry, bring an umbrella, wide-brimmed hats and cool drinks — and sunscreen is always a good idea, no matter the temperature.
Inclement weather may force you to take a rain check. However, you can turn some adverse weather conditions to your advantage. Reschedule your picnic for another time and spend the day searching for rainbows, listening to thunder or flying kites if the day is blustery.
Making memories
Picnics are nostalgic events. Many of us have childhood memories of sack lunches at the park, family barbecues, and campfires on late summer nights. Make memories the focus of your picnic by recalling favorite moments and preparing to remember this special day. Pack a camera or collect some mementos (like some nearby dandelions, which can be pressed and saved in a scrapbook). If you're with old friends and family, ask them to remember their favorite events from past summers. Conversation starters can help you get to know new friends.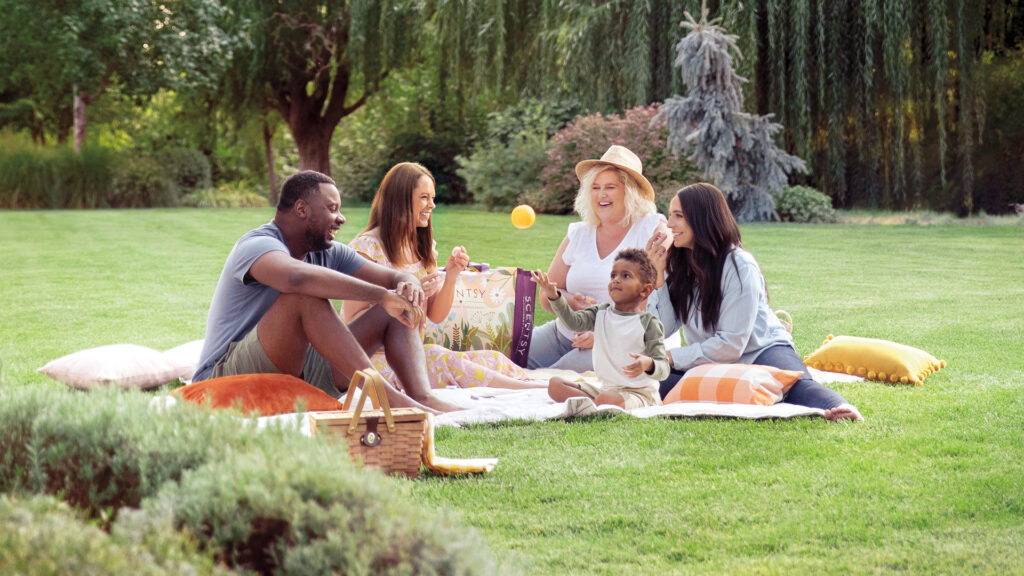 Pack your hamper
And the star of the show: food! Nosh, grub, chow, vittles, nibbles, whatever you call it, you can't have a picnic without it. Select your own simple favorites or experiment with some new fare. To help you out, here are some recipes from Scentsy's own kitchen.
New Orleans muffuletta sandwich
Ingredients:
For the olive salad:
7 ounces small green olives
16 ounces giardiniera mix, roughly chopped
3 ounces cocktail onions, roughly chopped
2 ounces capers
1/4 cup chopped banana peppers
1/2 cup diced carrots
1/2 cup diced celery
1 clove minced garlic
1/3 cup olive oil
1 tablespoon red wine vinegar
1 tablespoon dried Italian seasoning
1/2 teaspoon pepper
For the sandwich:
1 loaf Italian bread
1/2 pound sliced ham
1/2 pound sliced salami
1/2 pound sliced provolone cheese
1/2 pound sliced Swiss cheese
Directions:
To make the olive salad, drain the brined ingredients. Add all ingredients to a medium bowl and mix well. Set aside.
Slice the loaf of bread lengthwise. Hollow out some of the top layer of the bread.
Add the ham, salami and cheese on the bottom piece of bread. Spoon the olive salad over the meat and cheese and add the top piece of bread. Cut into slices and serve.
Potato salad
Ingredients:
5 pounds Yukon Gold potatoes
2 cups mayonnaise
1 cup sweet pickle relish
2 tablespoons yellow mustard
1 tablespoon apple cider vinegar
1 tablespoon celery seeds
½ teaspoon paprika
5 hard-boiled eggs, chopped
3 celery stalks, diced
1/2 cup sweet onion, diced
1 tablespoon dill, chopped
Salt and pepper
Directions:
Slice potatoes into quarters and add them to a stockpot. Fill the pot with cold water until it covers the potatoes by 1 inch. Add 1 tablespoon salt and bring the pot to boil over high heat. Cook for 13-15 minutes or until fork tender.
In a large bowl, mix the mayo, relish, mustard, vinegar, celery seeds and paprika. Add salt and pepper to taste. Stir until smooth, then add the eggs, celery, onions and dill.
Drain the potatoes, removing any loose peels. Chop the potatoes into 1/2-inch pieces. Add the potatoes to the dressing and mix gently. Garnish with dill and paprika as desired.
Cover the salad and refrigerate for 4 hours before serving.
Blondie bars
Ingredients:
1 cup unsalted butter, melted
1 1/4 cup brown sugar
1/2 cup sugar
2 large eggs, plus 1 egg yolk
2 teaspoon vanilla extract
2 1/4 cups flour
2 teaspoon cornstarch
1/2 teaspoon baking powder
1 teaspoon salt
2/3 cup white chocolate chips
1 cup chopped walnuts
Directions:
Preheat oven to 350° F. Line a 13×9-inch pan with parchment paper.
In a large bowl, combine melted butter and sugar. Stir well. Add eggs, egg yolk and vanilla extract, and stir until completely combined. Set aside.
In a medium bowl, combine flour, cornstarch, baking powder and salt. Gradually mix dry ingredients into wet until completely combined. Fold in white chocolate and walnuts, if desired.
Spread the batter into the prepared pan and bake for 25-39 minutes, or until a toothpick inserted in the center comes out with just a few crumbs.
Bonus tip from the Scentsy kitchen:
Remember to bring simple finger foods that are easy to transport, including nuts, cheese and seasonal fruits. This time of year, opt for cherries and nectarines.
Tackling cleanup
After you've completed your perfect picnic, don't stress about the mess — Scentsy has some products to help make cleaning a breeze! Toss the picnic blanket in the wash with Scentsy Laundry Liquid to tackle stains and erase outdoorsy odors. Use Counter Clean to tidy up sticky residue from when those little hands helped you make lunch. For the muddy footprints tracked through the house, try All-Purpose Cleaner Concentrate.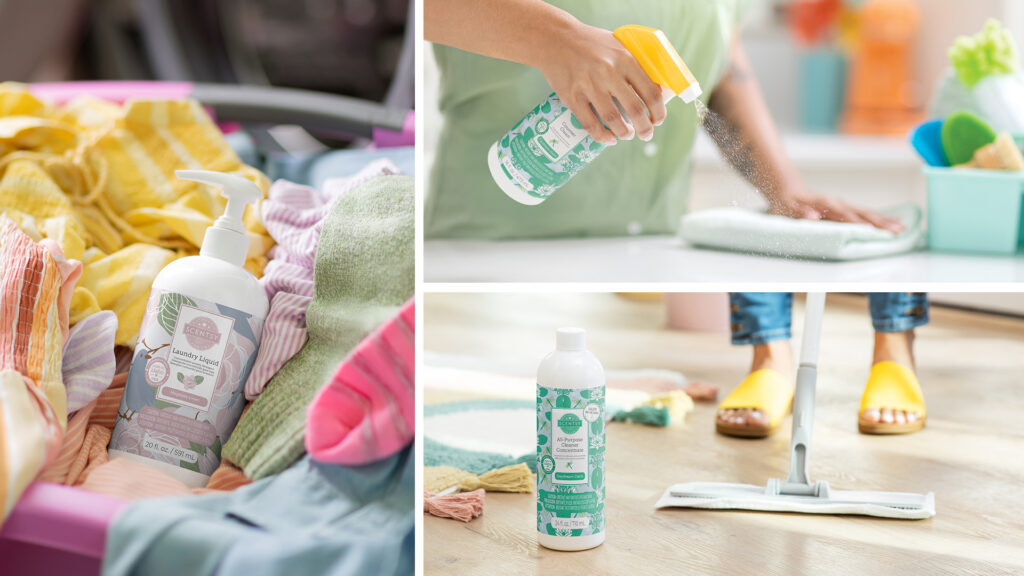 What are you bringing to your picnic? Comment below!