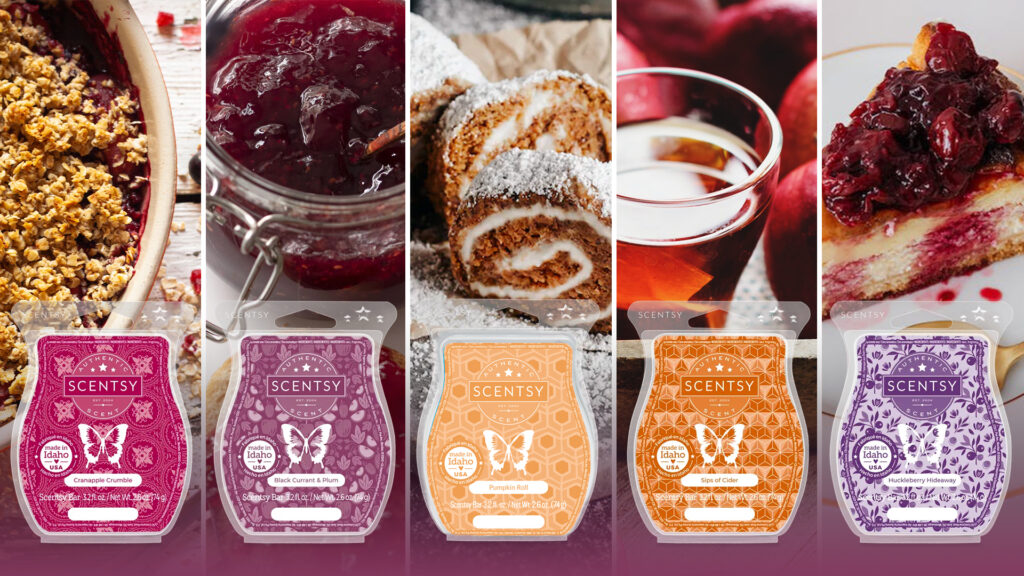 Winter is coming to an end and clear skies are becoming more common. While the warmth of spring is most welcome, we know we'll soon feel nostalgic for cozy days indoors. Our Scentsy fragrances are all about invoking our favorite memories, so why not use these delicious food and fragrance combinations to create new memories for when that nostalgia hits?
Cranberry and apple are a classic combination used in all kinds of winter desserts, and an old-fashioned apple cranberry crumble is the perfect recipe to make on a brisk day. Crumbles are no fuss desserts that are perfect served hot out of the oven. Top with a scoop of vanilla ice cream or even a dollop of whipped cream to combine all the notes from this delicious Scentsy fragrance. You can find the recipe here.
These sweet and tart fruits make for a delicious combination. Balance out the tart with some sugar and a hint of lemon then boil down the delicious flavors into a jam you'll want to put on everything!
2 cups of black currants, washed, dried and stems removed
2 cups of pitted, sliced plums
1 ½ cups of white sugar (add an extra ½ cup if you like it sweet)
1 tablespoon of lemon juice
Add everything to a deep pot and stir to combine. Turn the heat on high, stirring every few minutes until everything starts to bubble. Mash the currants and plums until they begin to fall apart. When the mixture begins to boil, continue stirring every 30 seconds until it reaches 220° F. Spoon the mixture into mason jars and let cool (the jam will thicken as it cools). Make sure to store your jam in the fridge and enjoy.
Black currants can be hard to come by. If you are looking for a substitution, you can try blueberries for something extra sweet or huckleberries if you want to emphasize the tart. Click here for the original recipe.
If you are hoping to reminisce on some fall flavors, then making a pumpkin roll is a great start. A moist pumpkin cake wrapped around a creamy filling is an excellent make-ahead dessert for parties. Slice the rolls into medallions and serve with a hot beverage of your choice. Keep the fall memories around till spring by wrapping your leftover roll in tin foil and freezing it. When nostalgia calls, let it thaw in the fridge for a day and enjoy. Click here for the recipe.
Speaking of hot beverages, hot apple cider is a classic winter drink that warms from the inside out. If you haven't tried making your own cider yet, what are you waiting for? All you need is a big pot, some apple juice and your favorite winter spices. Leave it to simmer on the stove for half an hour and you'll have something that tastes (and smells) delicious. Bundle up on the couch with a blanket and a warm mug and enjoy your favorite cold weather activities. Find all the spices you'll need here.
Huckleberries aren't a traditional fruit in many places across the U.S. But here at Scentsy's home office in Idaho, this fruit has a robust history. The perfect balance of sweet and tart, huckleberries are an incredible fit for all kinds of desserts, like a cheesecake! Huckleberry cheesecake sounds complex, but this simple recipe takes just minutes to make with a fluffy, no-bake filing. Top the whole thing off with a layer of fresh huckleberry topping, grab a fork, and dig in! Find the recipe here.
What memories do these recipes bring to mind? Which recipe will you make first? Let us know in the comments below!