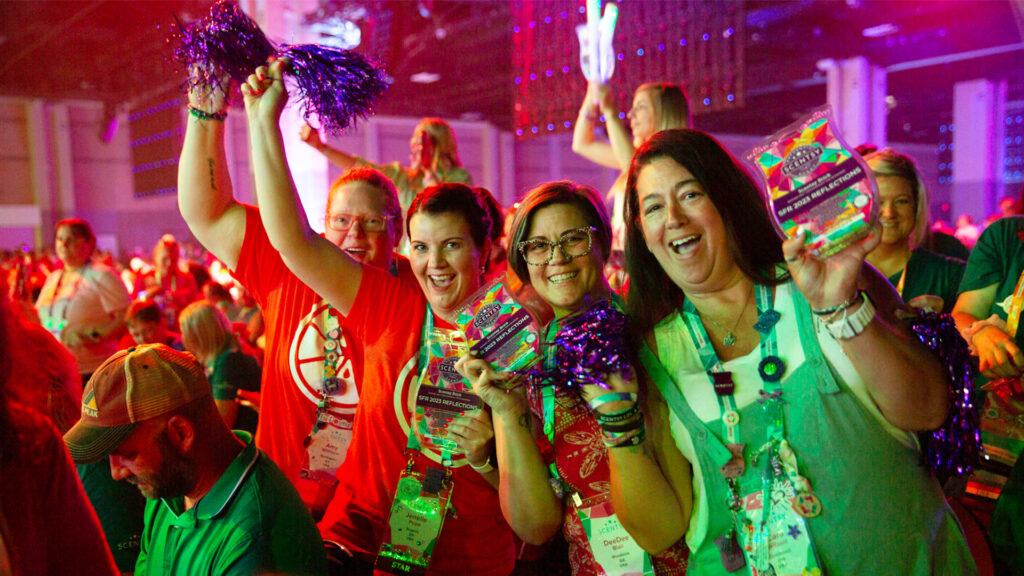 Scentsy Family Reunion 2023 was an extraordinary event filled with excitement, inspiration and lots of information. Consultants and Scentsy home office staff assembled in Charlotte, Manchester, Berlin and Australia's Gold Coast.
But this annual gathering is more than a convention; it's an opportunity to connect, share encouragement, develop new business skills, get an inside peek at upcoming products and incentives, and celebrate the Scentsy community. At our core, we are a family!
Here's a journey through some of the highlights of this year's Reunion and the key takeaways Scentsy Consultants can apply right now to create a brighter future:
Expo extravaganza
Our goal for 2023 was to create a space for learning and growth by bringing in experts in marketing, communication, product development and technology to help Consultants grow their businesses.
Personal branding: Consultants learned how to harness the power of creating a personal brand and how it empowers them to stand out.
Workstation mastery: Consultants learned how to leverage their online Workstation reporting tools to track their progress and develop their teams.
Strategic marketing: Experts shared tips and strategies for both strategic and organic marketing so Consultants can effectively reach their customers.
Social impact: Experts shared how Consultants can create engaging content and make a huge impact on their business via social media and — a game changer — how to make a positive impact through deliberate action.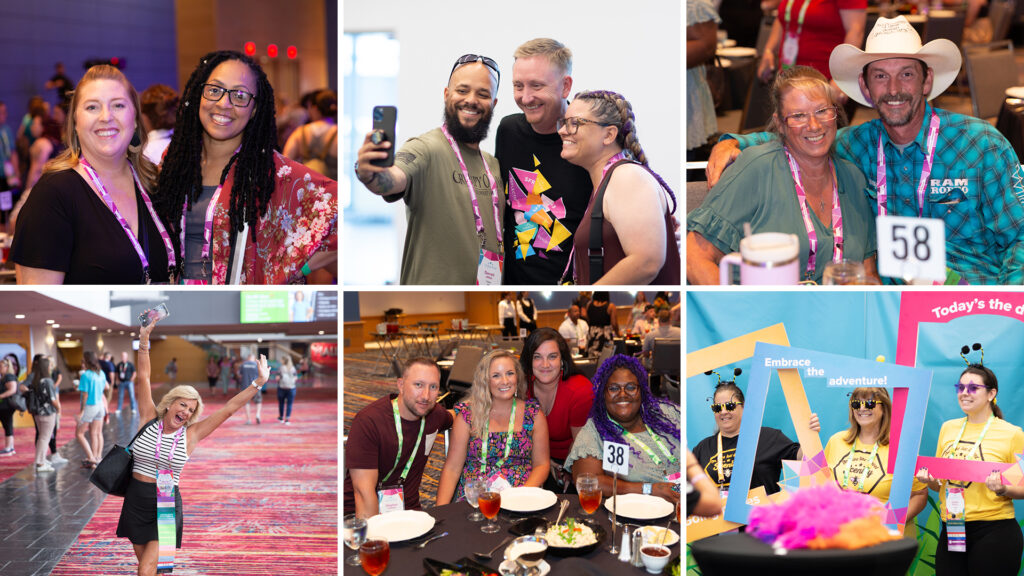 Fragrance experiences
Scentsy is a world-class fragrance company, so we created a unique "Scentsory" experience that walked Consultants through how some of our classic and newest fragrances were created.
Fragrances covered the fragrance families including Luna (floral), Blue Grotto (citrus) Make Me Snicker(doodle) (bakery), White Amber & Teak (woods) Jammy Time (fresh), Scarlet Sunflower (fruit) and Christmas Cottage (spice). This hands-on experience allowed Consultants to connect with the beating heart of Scentsy's products.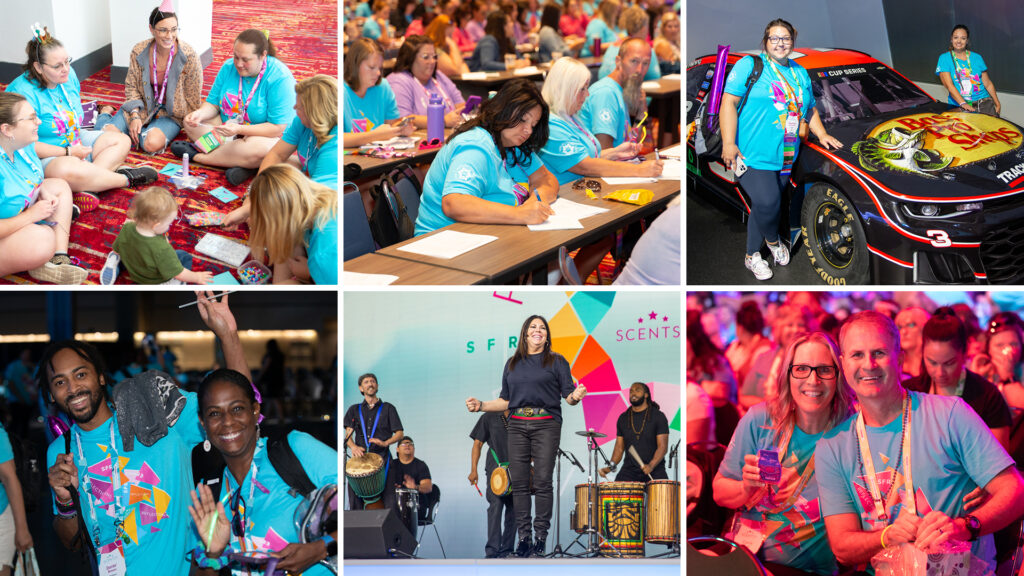 Compelling products
One benefit of attending Reunion in person is a whole list of sneak peeks at products Scentsy is preparing to release. We can't share them all here, of course, because we like to keep our surprises! But here are a few of the exciting announcements we can share:
Harvest Collection: On-trend and classic products to help you transform your fall and holiday home. Consultants were able to experience our new fragranced Lumina Pumpkin Darling Décor pillow. One hot topic focused on the Fall Into Love Stunning Sunflower Fragrance Flower. Fall fragrances also made a splash, including Cashmere Leaves, Dutch Apple Bread and White Pumpkin & Driftwood.
Disney: Scentsy President and Interim CEO Dan Orchard announced that Scentsy will sponsor a new guest experience at Walt Disney World® Resort in Florida. "Smellephants on Parade" will be available to guests of all ages in the Storybook Circus area in Magic Kingdom® Park. Of course, Scentsy will be offering a special warmer to commemorate the experience.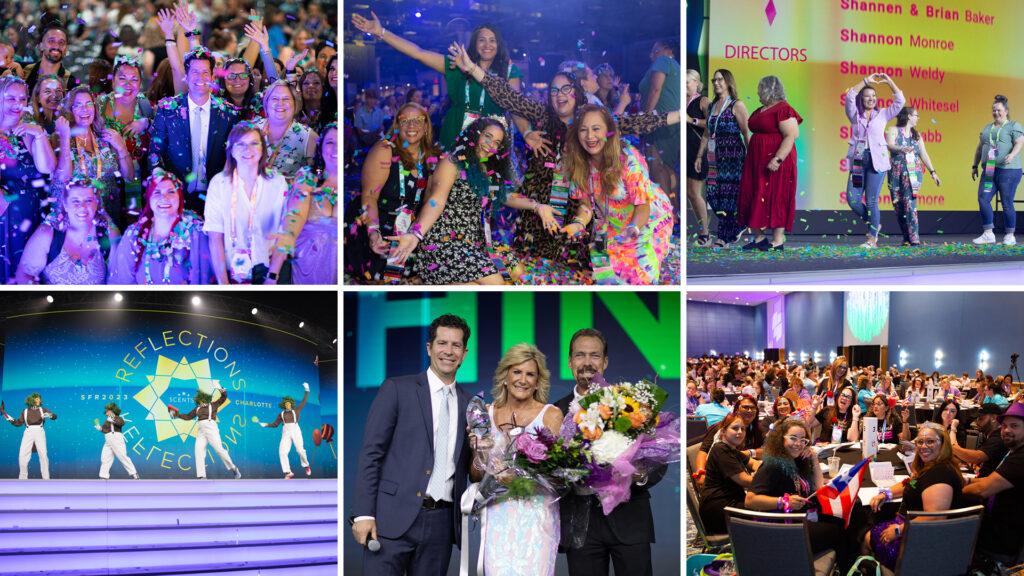 Adventurous destinations
One of the most eagerly anticipated moments at Reunion each year is the big reveal of incentive trip locations. Consultants were thrilled to learn the destinations for 2024 are the sun-soaked, sandy and palm-shaded beaches of Hawaii and Bora Bora! These tropical paradises will serve as incredible personal achievements for Consultants who earn the trips.
The excitement continued with the announcement of Orlando, Florida, as the destination for Scentsy Family Reunion 2024, which will also double as another incentive location.
Memorable friendships
Reunion is not just about business; it's also about creating lasting memories with fellow Consultants. It's about filling our cups so we are ready for a new season and the new year. One heartwarming memory that bubbles with Scentsy Spirit is Consultants coming together to sing holiday carols, connecting the group and creating unity. The event was filled with laughter, selfies and friendships. Take a look at some of the inspiring images!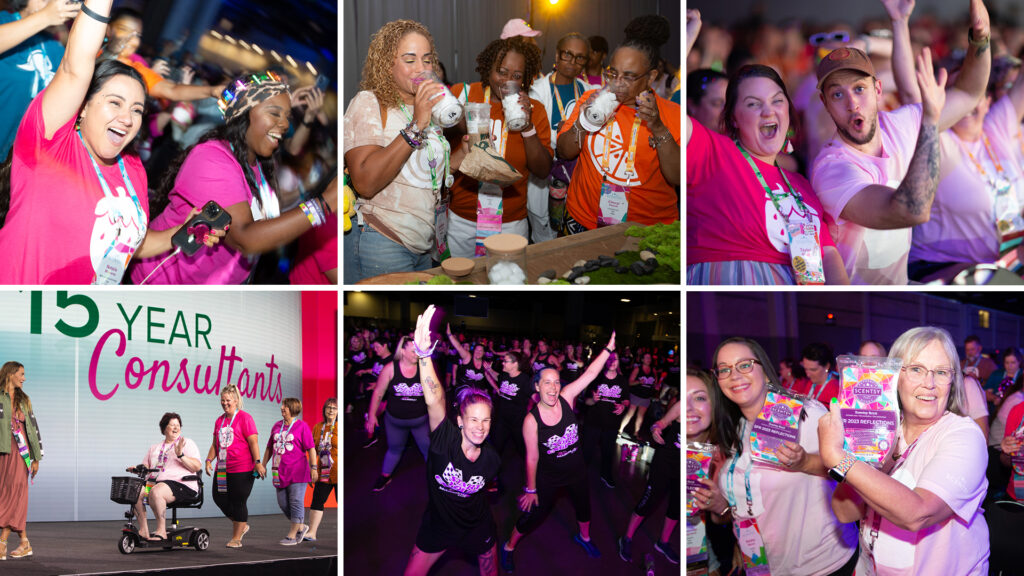 Favorite moments
Scentsy Family Reunion is for Consultants. But it also a time for home office staff to see their sales force face-to-face. Here are recollections from Scentsy employees:
"My favorite moment was watching everyone's faces in the crowd when the new Scentsy incentive trips were announced. Seeing the excitement in people's eyes, hearing the confetti canons burst, and watching everyone go wild was such an amazing experience." ~ Chris Crawford, digital marketing specialist
"Being able to talk to Consultants one-on-one during Expo was definitely a highlight for me. Helping Consultants discover new ways to grow their business and reach their goals is what it's all about, and I loved getting to be part of that." ~ Nichole Snyder, copywriter
"I always look forward to opportunities to speak with Consultants in person! Nothing beats an in-person chat to help us to better understand how Consultants and their customers use (or would like to use) Scentsy's digital tools! One of my favorite moments was being backstage during Awards Night — I got to meet so many Consultants in person that I've only had the opportunity to chat with on Zoom."
~ Gary Engle, UX/UI manager
"The time I got to spend with visually impaired Consultants going through the product display. They had a designated time where it wasn't crowded so they could have the space and flexibility to go through at their pace. The Consultants loved it! They loved every fragrance; they cuddled with the Buddies; they were so excited about all the upcoming products. It reminded me that Scentsy warms the heart, inspires the soul, and enlivens the senses. So many senses. Heart and soul are universal, and no matter what sense it is, Scentsy is for everyone!" ~ Jason Harwood, director of Consultant development
Fun facts
Nearly half the Consultants attending Reunion were there for the first time!
Consultants donated 2,658 Scentsy Buddies with handwritten notes of support to children at Ronald McDonald House Charities® of Greater Charlotte and Charlotte Angels.
If you want to experience the fun, the family and growth of Scentsy Consultants, visit scentsy.com/join to learn more.
What were some of your favorite moments of Scentsy Family Reunion 2023? Tell us in the comments.