With so many fragrances to choose from, it's easy to wonder which Scentsy Bar is the fan favorite. We'll find out soon, with the 2023 Battle of the Bars! Sixteen wax bars will enter, but only one will be crowned the winner.
Starting Monday, March 6, go to Scentsy's Instagram stories to cast your vote for your favorite Scentsy Bar and help advance that fragrance through the contest. We'll post a poll every day at 8 a.m. PT, so be sure to follow @scentsy and check in regularly! The winning bar will be announced Friday, March 10.
Before we start the competition, don't forget to print out your Battle of the Bars bracket.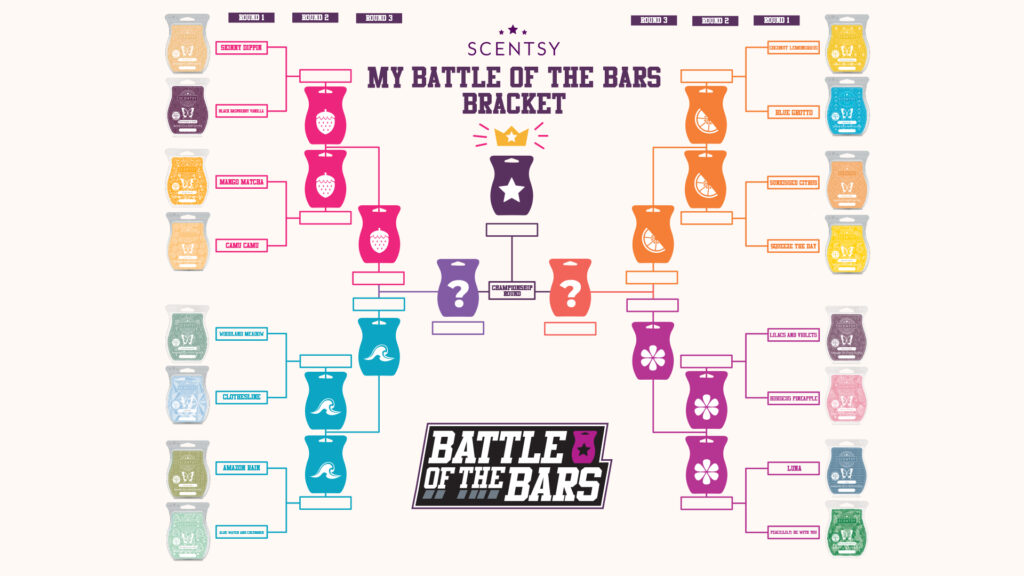 The initial Scentsy Bar lineup is listed in the bracket above. As you'll see, the competing bars come from four different fragrance families — fruity, citrus, floral and fresh — so there's something for everyone to root for. Take a look at the fragrances entering the battle, pick your favorites and add your predictions to your bracket!
All 16 bars in the championship are available in the Spring/Summer 2023 Catalog (which just dropped March 1!) so this competition is the perfect introduction to the fragrances we're offering this season.
Which bars do you think will make it to the final four? Comment below!