We've all felt that pull, at one time or another, to stop and share the love. It doesn't take much to offer a smile or hug to lift someone's spirits. And it's so easy to make a stranger's day with a friendly "good morning" in the elevator!
These small acts of kindness have such a wonderful, positive impact on the lives of others. Plus, they make us feel pretty good, too. It's impossible to know how far your friendliness might go — that's why it's so important to share the love every day!
Philanthropy
Today is National Philanthropy Day, and we challenge you to take that spirit of love and kindness one step further. There are so many opportunities in your community to give — all you have to do is ask around.
Here are a few ideas to get your philanthropic juices flowing. Why not try one today? And be sure to get the whole family involved!
Fill their bellies
It's likely that hunger is an issue for families near you. In 2015, more than 42 million Americans lived in food insecure households. Go online to find information on your local food bank — they really know how to stretch a dollar to provide meals to those who need them, so even a small donation can mean a lot. As the holidays approach, you can also look into sharing your time. Serve food at a local shelter or soup kitchen — volunteers are always needed.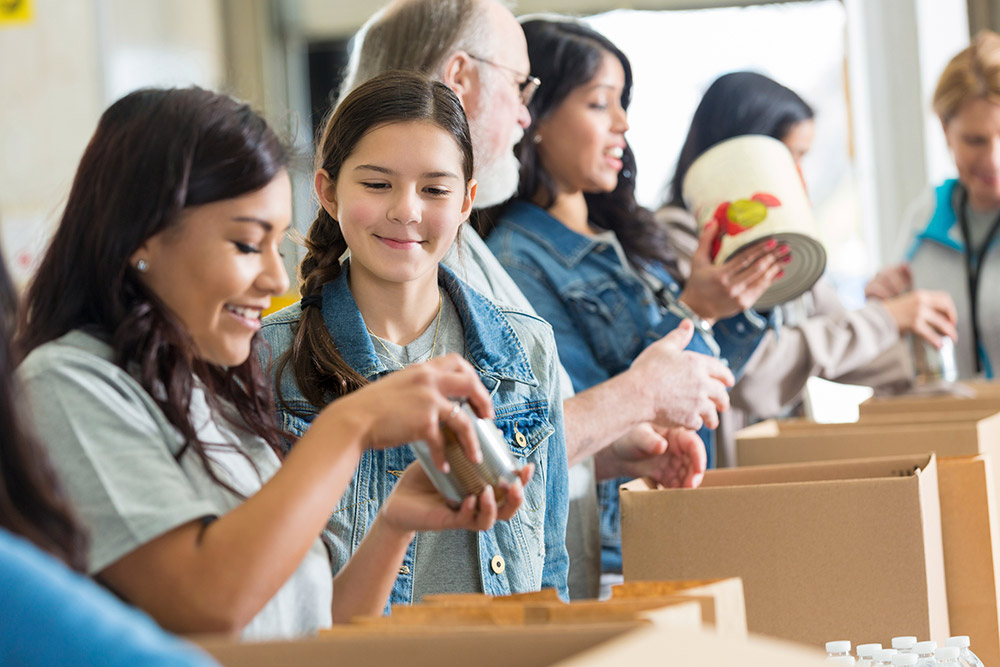 Share some fun
Christmas morning is coming, yet many children don't get to experience the wonder of finding a special present beneath the tree. Reach out to your local fire or police department — it's likely they'll have a toy drive or be able to connect you with a family to sponsor this Christmas. When in doubt, find your local Toys for Tots program and explore other ways to give.
Love your neighbor
Do you have an elderly couple in your neighborhood, or a single working mom? Look for opportunities to help out those who need it with tasks around the house or in the yard. Leaves are starting to fall — why not offer to rake them up? Just about everyone's home could use a bit of touch-up paint. Go to your local hardware store and ask for paint that's been returned — it can't be put back on the shelf, so you can often pick it up for a great price.
Give blood
This gift costs you nothing but time (about an hour) — and it could ACTUALLY save a life. Is your company offering a chance to donate this season? Sign up! Or go here to find a blood drive near you.
When you see an opportunity to give, how often do you take it? Spread the love this National Philanthropy Day — and throughout the holiday season.