Understanding the Scent Pyramid
Ever wonder how a Scentsy Bar can smell exactly like your grandma's world-famous cookies or wild lavender plucked straight from the French countryside? It's not easy, so let's break it down!
To start, here are a few facts to consider:
Thousands of natural and synthetic ingredients are chosen from to create fragrance formulas.
Most fragrances include both natural and synthetic ingredients. Here's why
Scentsy fragrances typically include 30 to 60 unique ingredients each!
So how do we know which ingredients will play well together? Lots of experience, mostly, some trial and error — and little tweaks here and there make ALL the difference.
We start with the Scent Pyramid. This is a fragrance's composition, made up of multiple fragrance notes (the ingredients that make up a scent). Each pyramid can be broken down into three categories: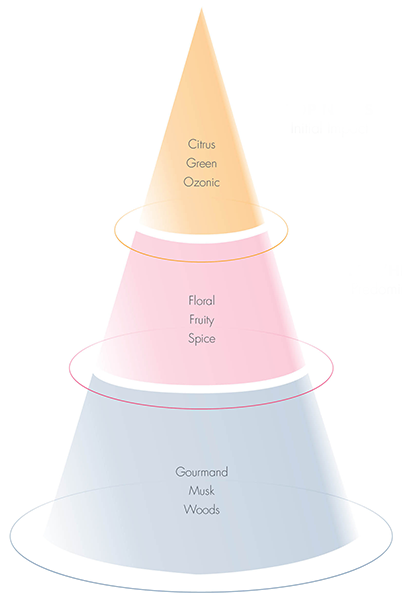 Top notes are the first thing you smell when you open a Scentsy Bar. They're also the first ingredients to dissipate and fade away as the Bar warms.
Mid (or heart) notes give a fragrance its true character. They last longer and make a bigger impression.
Base (or dry-down) notes go on and on. They ground a fragrance, balance it and make it last.
Every Scentsy fragrance consists of carefully selected top, mid and base notes to create a perfectly balanced scent.
Within the three categories of a Scent Pyramid live nine Fragrance Families. Every conceivable fragrance note falls within one of these families:
TOP NOTES:
Citrus
Fresh, clean, tart or sparkling. Includes fruits like mandarin, bergamot, lime, grapefruit and lemon.
Green
Herbaceous, grassy or minty. Think of basil, spearmint, peppermint or thyme.
Ozonic
Crisp, fresh, marine or airy. Composed of synthetic ingredients like calone (like the light, watery scent of the seashore) or aldehydes (capable of simulating many different scents).
MID NOTES:
Floral
Soft, full-bodied, heady or sweet. Includes flowers like rose, muguet (lily of the valley), jasmine, mimosa and gardenia.
Fruity
Juicy, ripe or sweet. Such as peach, raspberry, melon, apple or strawberry.
Spice
Dry, warm or rich. Think of pepper, clove, nutmeg or cinnamon.
BASE NOTES:
Gourmand
Creamy, baked or edible (just don't really try to eat our fragrance products!). Notes include vanilla, caramel, cocoa, brown sugar or butter.
Woody
Earthy, green, dry or resinous. Notes like sandalwood, patchouli, fir, balsam, cedarwood or olibanum (frankincense).
Musk
Sweet, powdery or animalic. Synthetic musks, including ambrettolide or galaxolide.
We do a lot of experimenting with an initial fragrance design — a little more vanilla here, a little less jasmine there — and test it until we get it just right. We often make tiny tweaks to round out a fragrance's character or make it last longer. Each scent pyramid is totally unique!
The final test happens after we put the fragrance in the catalog. That's when we find out how much you love it — or not!
Understanding the Scent Pyramid is a great way to explore new fragrance experiences. Let's say your favorite scent is Luna. (Good choice!) This fragrance is full-on floral: jasmine, sweet pea, freesia. Odds are you'd also really enjoy Love Story, a floral fragrance that features jasmine, or the freesia-infused Sheer Innocence.
Your Scentsy Consultant can help you explore even more options. Check out their Scentsy website for a fun "Find a Fragrance" tool that helps you compare fragrance notes.
Don't have a Consultant? Find one at scentsy.com.