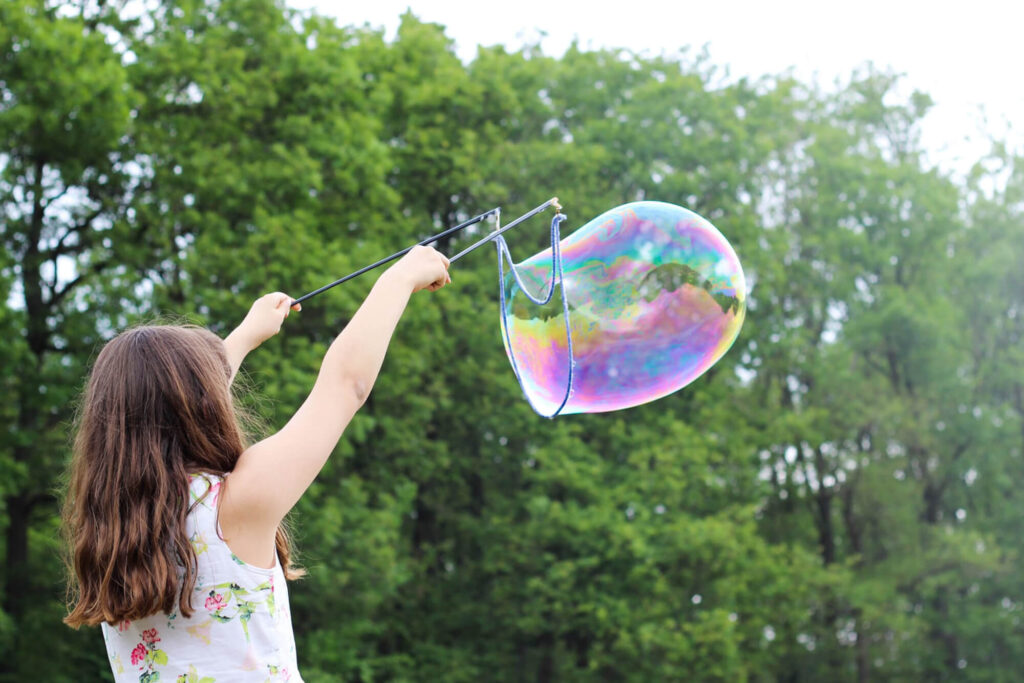 "Mom, we're bored!"
"There's nothing to do!"
"We're hungry!"
"Can we watch TV?"
For all the joys of summertime, especially with kids, there are just as many challenges to tackle. This year is extra tricky, because they've already spent so much time at home and their friends are just as cooped up. Odds are, the kids have blown through all your go-to activities and constantly beg for more to keep them entertained. When "Go play!" falls on deaf ears and you feel the madness setting in, don't panic — DIY!
With a little planning, a few tools and other objects you probably have at home, your kids can spend those long summer afternoons creating masterpieces and living it up in the sunshine. (And you get to keep your sanity.)
For lasting outdoor fun, make your own bubble solution
Kids of all ages love bubbles. It's an unmitigated fact. And there's something pretty special about blowing bubbles under a bright summer sky. But for the little ones, the joys of bubble blowing are always short-lived. On average, a child from the ages of 2 to 6 will completely dump their new bubble bottle within 90 seconds of removing the lid.*
Rather than keep a huge stock of store-bought bubbles on the shelves at home, use this easy method to create your own bubble solution — so you can be ready to refill empty bottles before the tears fall: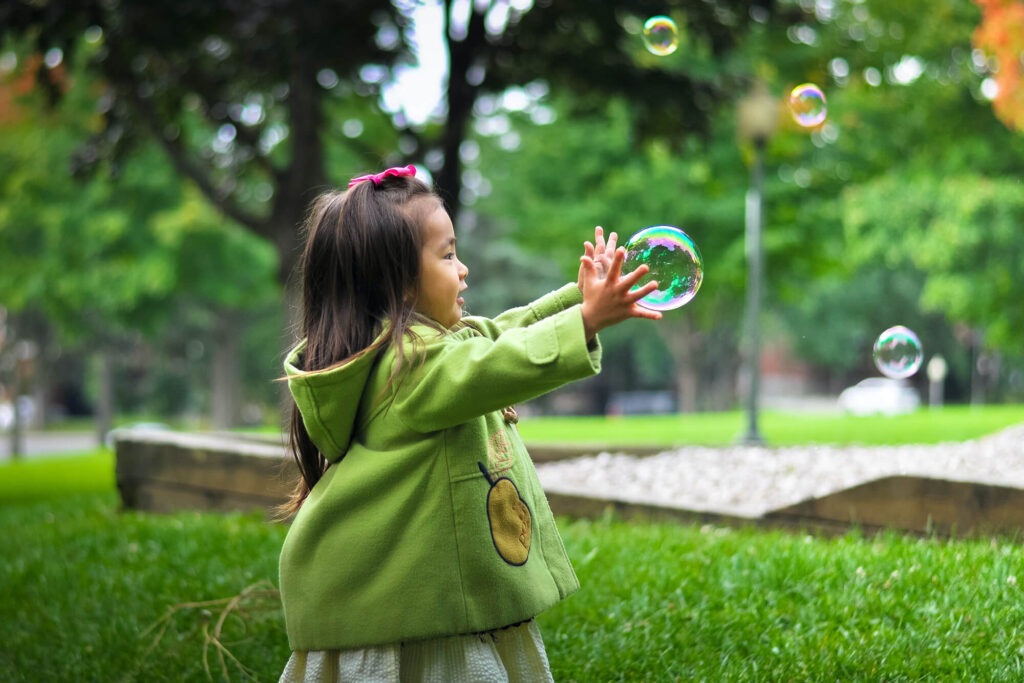 DIY Bubble Solution
Ingredients:
4 cups of warm water
1/2 cup of sugar
1/2 cup of dish soap
Large glass bowl and whisk
Instructions:
Whisk the sugar into the water until it dissolves. (Sugar helps your bubbles last longer.)
Whisk the soap into the mixture, gently to prevent foaming.
If it's not a bubble emergency, let the mixture sit for a couple hours for better bubbles. (Or use right away if the kids can't wait.)
Start blowing bubbles!
To stay cool outside, make your own fruit pops
This one's a kid-friendly cooking experiment and healthy, refreshing treat, all in one. It requires a bit of waiting, but start in the morning and your kids will be enjoying rainbow fruit pops on the porch by the afternoon!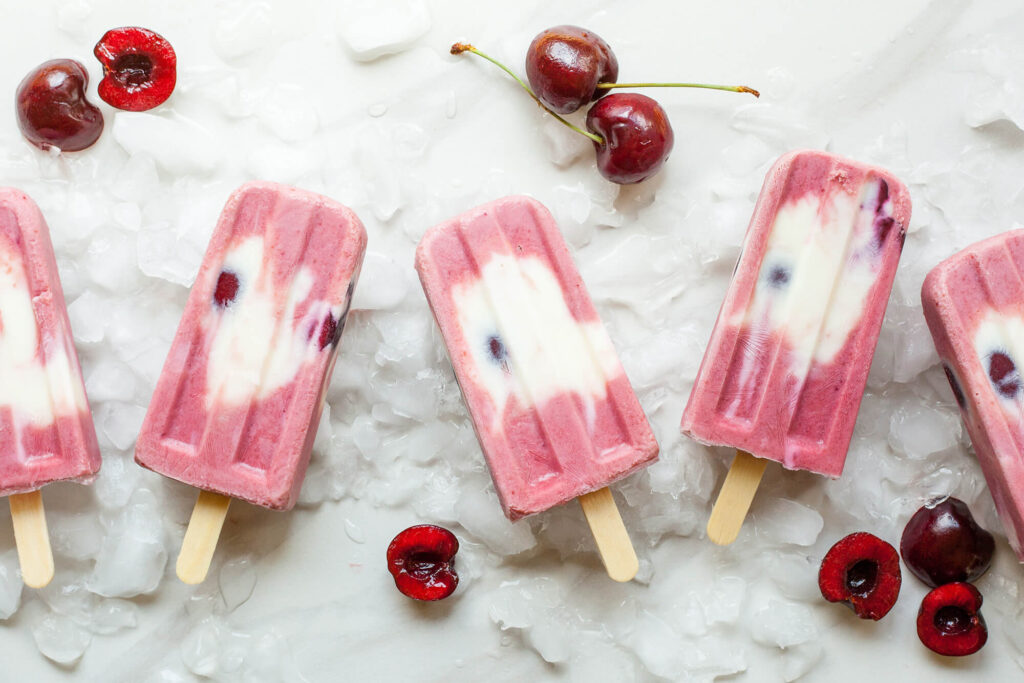 DIY Rainbow Fruit Pops
Makes 8 pops
Ingredients:
Small paper cups or ice pop molds, if you have them
Wood pop sticks
1 cup frozen raspberries
1 cup frozen blueberries
2 kiwis
1 mango
Water
Instructions:
Combine frozen raspberries with 2 tbsp. of water in a blender. Puree until smooth and fill each cup or mold about 1/4 full. Freeze for about 15 minutes.
As the first layer freezes, rinse blender, dice mango and blend with 2 tbsp. of water. Puree until smooth.
Remove pops from freezer. Add wood sticks to raspberry layer, then add mango puree until about half full. Freeze for about 15 minutes.
Repeat these steps with frozen blueberry and kiwi layers. (Blueberries will require about 2 tbsp. of water to puree, but kiwis won't need any.)
Once the final layer is added, freeze pops for 2-3 hours until solid.
Remove pops from cups or molds (run under warm water if needed) and enjoy!
To pique their creativity, make a rock masterpiece
Anyone can paint on paper or a canvas, but it's so much more fun to paint rocks — plus you can create special mementos from rocks gathered on a family hike or a trip to the beach.
It's easy: Simply pick a stone (the smoother the better); decide on a pattern, phrase or picture; pick up some colorful acrylic paints and brushes; then start painting!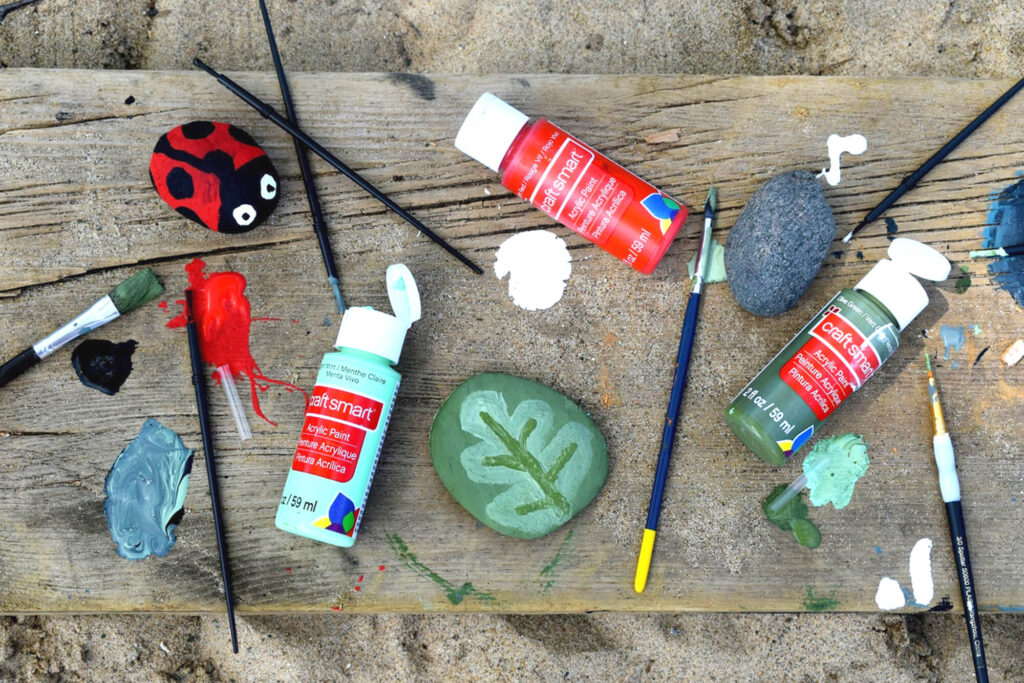 Want to share their art with the world? Start a community project where you leave behind a painted rock at your local park or playground, and be sure to stay on the hunt for the work of fellow artists. It's such a fun way to stay connected and inspire each other.
How are you keeping the kids busy this summer? Share below!
*This was a made-up stat, but we stand by its likely accuracy.