Finding inspiration in color and fragrance.
I'm not the first person to be seduced by indigo.
It's a powerful pigment — one that's been highly valued in the world's religions and across cultures for hundreds of years. It has inspired art, fashion and architecture as the "bluest of blues." It's one of the seven colors painted in every rainbow and can be found in the night sky, just before dawn.
I can't imagine how many others, like me, have fallen in love with the mystery and beauty of indigo.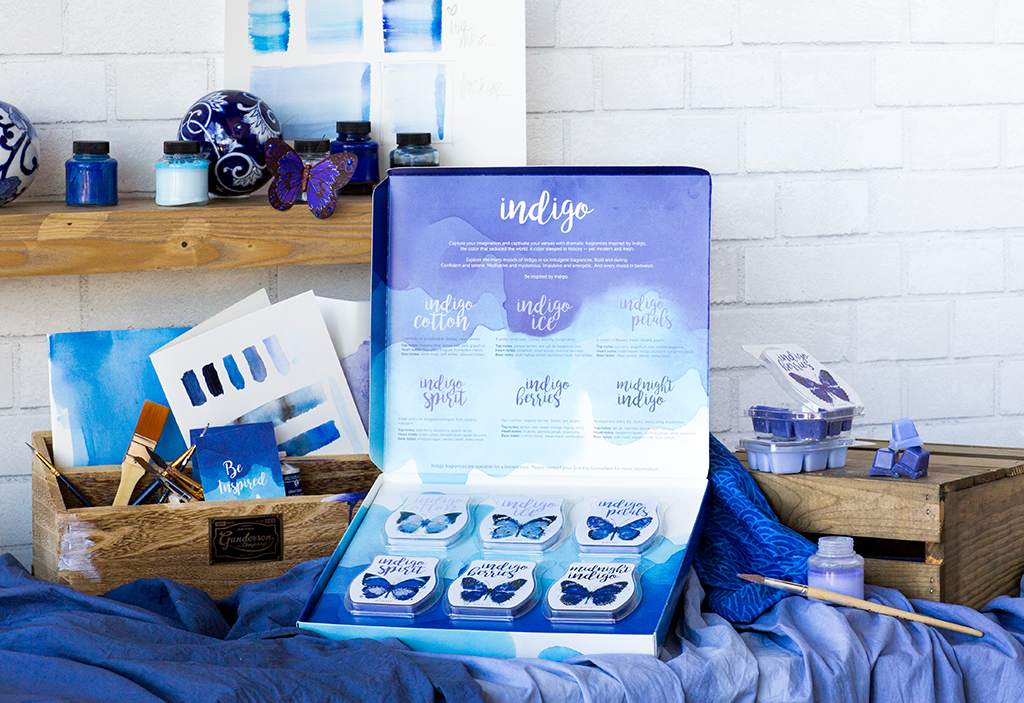 Its history is deep
At one time, indigo's allure was tied to its rarity. Indigo dye is naturally harvested from the tiny leaves of a small shrub. Before it could be manufactured as a synthetic, indigo was very expensive and very desirable. As you can imagine, with such rarity and demand, indigo's story is also colored with devastation as people fought to attain it.
Throughout the ages, indigo has inspired much more than beauty. But that doesn't mean its story isn't ultimately beautiful. It represents the power of the senses, and our soul's connection to color.
Where will Indigo take you?
Indigo is a global story — just like fragrance is a global story. Sourced and shared from India to Africa to America and beyond, drawing out emotion and impacting the world in immeasurable ways. How could we not marry two such remarkable stories, and two such powerful senses, to create something special?
I've wanted to curate limited-edition, "boutique" fragrance collections for years. As for Indigo, the color itself inspired me. Our incredibly creative perfumers designed six unique and alluring fragrances to express its complexity and depth.
I love the different characteristics of each fragrance, and how they each remind me of the color indigo. These fragrances, like the color that inspired them, are special — so I wanted to take the multi-sensory experience one step further: with music.
Envelop your senses in Indigo
I created a playlist that crosses several genres, a dozen songs that remind me of the indigo mood. I hope you'll listen to it now, and be inspired as I have. I invite you to completely envelop your senses in Indigo — the color, the images, the layers of scent notes — and listen to the playlist again as you experience our fragrances when they become available on May 9.
I can hardly believe we're finally here! I can't wait for you to experience our Indigo fragrances. I hope you love them as much as I do. But what's more, I hope they inspire you. Learn more at ExploreIndigo.com.(No longer available)
Love,


Indigo fragrances are available beginning May 9 for a limited time. To order, contact your Scentsy Consultant. Don't have a Consultant? Find one at ExploreIndigo.com.
As President and Co-owner of Scentsy, Inc., Heidi Thompson's story cannot be told without fragrance. To learn more about Heidi and to read the entire Scentsy Story, go to scentsy.com.