Burn injuries are one of the leading causes of accidental death and injury in the United States.
Every day, hundreds of children are taken to emergency rooms with burn injuries. Sadly, an estimated 180,000 deaths are caused by burns every year, according to a World Health Organization (WHO) fact sheet. And this doesn't even take into account non-fatal burn injuries that can have life-long consequences. The same WHO sheet reports that burns are among the top five most common childhood injuries. In 2000, $211 million in hospital fees were spent treating children with burns in the United States alone.
At Scentsy, we take these startling statistics very seriously, and we believe the best way to prevent burn injuries is to raise awareness. That's why we wanted to shed some light on National Burn Awareness Week to help educate our community about how to prevent these tragic accidents.
Burn Awareness Week, observed annually during the first full week in February, is a great time to check the smoke alarms in your house and conduct a home fire drill. To avoid any type of burn, be sure to teach your children safety tips that will help keep them safe from burns, especially at home.
Protect your loved ones with the following tips inspired by the U.S. Fire Administration:
Use the back burners when you cook, if possible, and/or turn pot handles away from the stove's edge.
Keep all appliance cords coiled and away from counter edges.
Use oven mitts or potholders when moving hot food from ovens, microwave ovens or stovetops. Never use wet oven mitts or potholders as they can cause scald burns.
Never leave a child alone with an open flame.
Open heated food containers slowly, away from the face to avoid steam burns.
Foods heat unevenly in microwave ovens. Stir and test before eating.
Keep young children at least 3 feet away from any place where hot food or drink is being prepared or carried.
Keep hot foods and liquids away from table and counter edges.
Never hold a child while cooking, drinking or carrying hot foods or liquids.
Teach children that hot things burn.
When children are old enough, teach them to cook safely. Supervise them closely.
You can also download complimentary burn prevention materials, such as age-appropriate activity books, posters and fact sheets at beburnaware.org. Taking the time to educate yourself and your children about burn prevention can keep them safe from this all-too-common injury.
Safe use of Scentsy Products
Don't place Scentsy Warmers on flammable surfaces or near things that could catch fire.
Use the appropriate bulb for your warmer. Check the tag on the cord or bottom of your warmer for a label that includes wattage requirements and remember that all mini warmers use a 15-watt bulb. Order a few spare bulbs from your Scentsy Consultant (or find a Consultant at scentsy.com) to keep on hand.
Turn off your warmers when you're not at home, and unplug them – along with other small appliances, lamps, etc. – when you leave overnight.
Keep cords and warmers out of reach of children.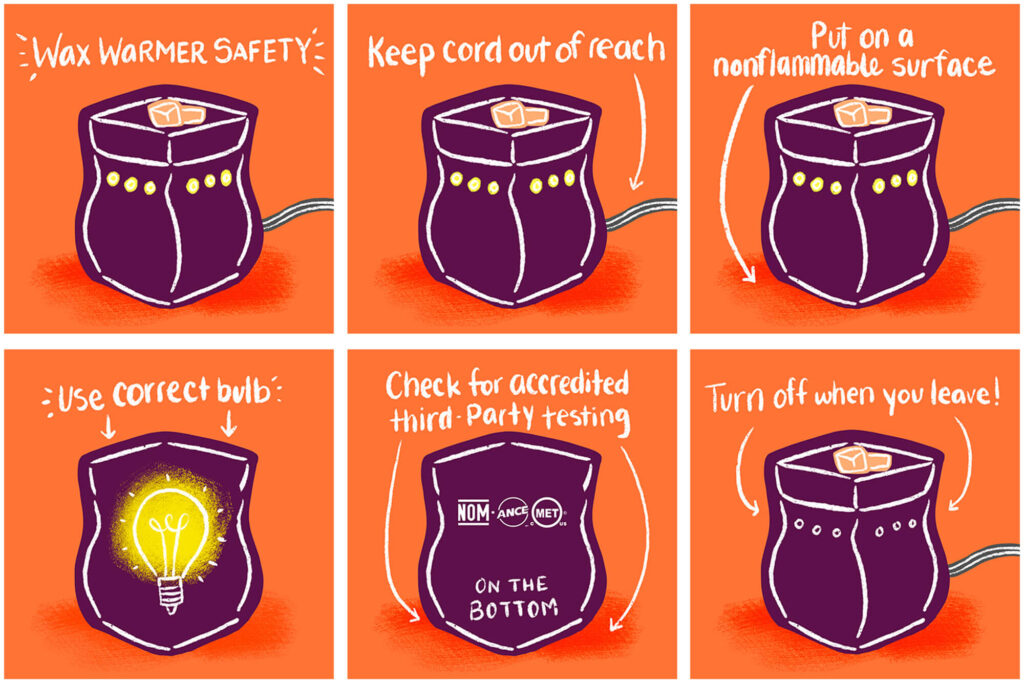 Learn more about Scentsy product safety!
If you're looking for a safe alternative to traditional candles, contact your Scentsy Consultant. Don't have a Consultant? Click here!