E

ven if you changed the wax in your Scentsy Warmer EVERY DAY,

you could go all summer long without repeating a single fragrance. And there are enough Scentsy Oils to keep you diffusing something new for a whole month.

Pretty cool, huh?

We offer plenty of different scents each season because every nose is different! And so many factors play into the kind of fragrance you want in your home (mood, memory, season, style, personality, etc.). That's why it's important to have a stash of scents that span the fragrance families.

But there's another great reason to keep a good selection of Scentsy Bars and Oils on hand!

For years, diehard Scentsy fans have been taking that level of personalization one step further, by MIXING cubes of wax from different Scentsy Bars in their Warmers to create something completely new — a one-of-a-kind fragrance, customized just for them.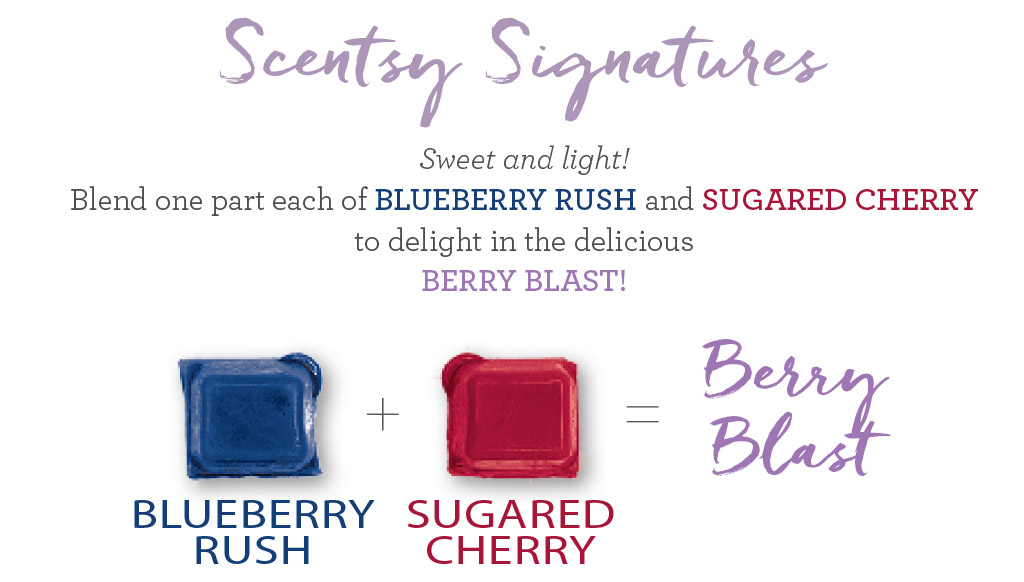 We launched Scentsy Signatures in the Spring/Summer 2016 Catalog to help showcase this fun opportunity. We even included some cool "recipes" for Scentsy Bars and Scentsy Oils!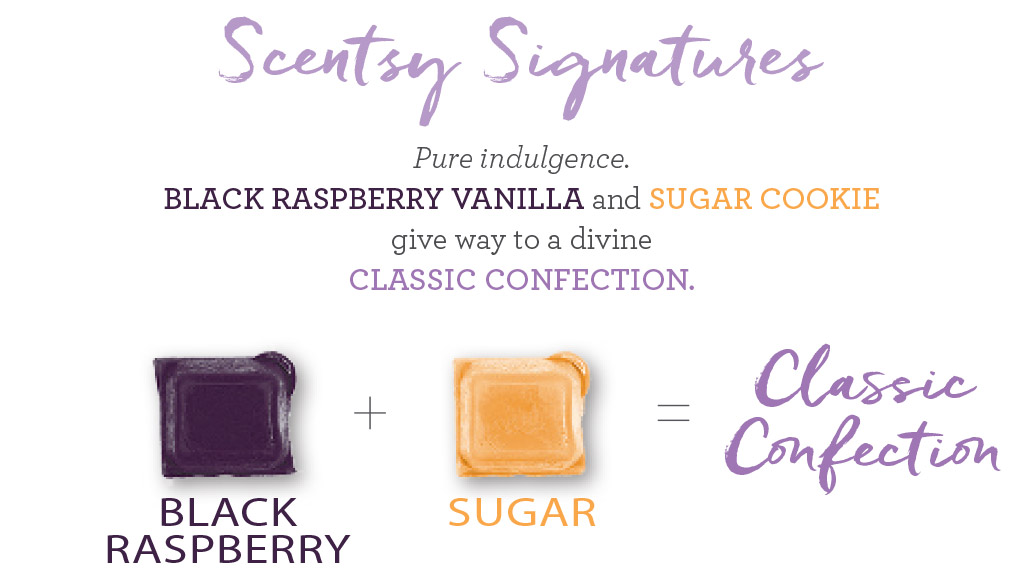 If you haven't tried designing your own fragrance yet, what are you waiting for? It's a ton of fun playing mad scientist and coming up with something special.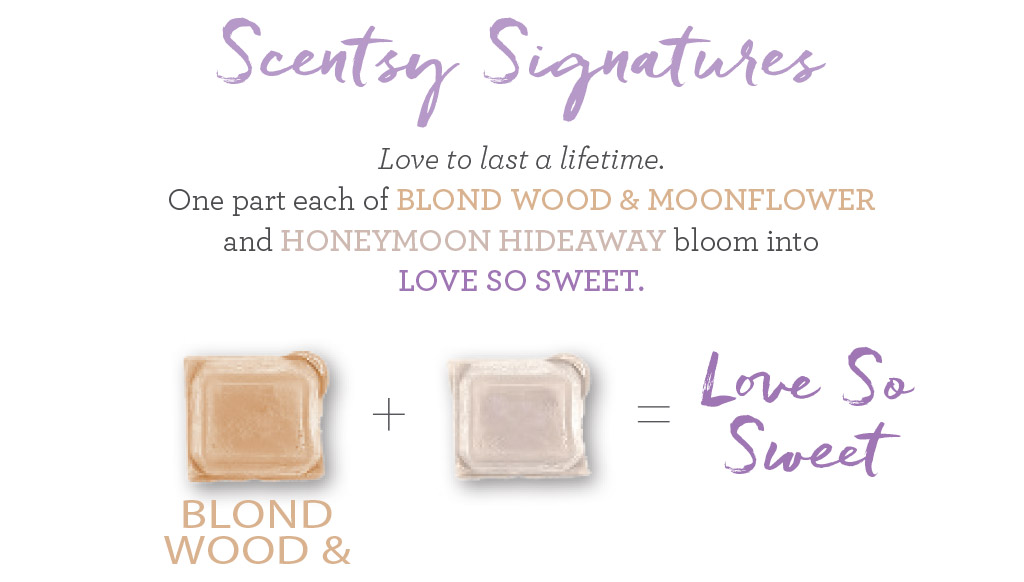 Worried about wasting your wax on combos that just don't work? Here are a few tips: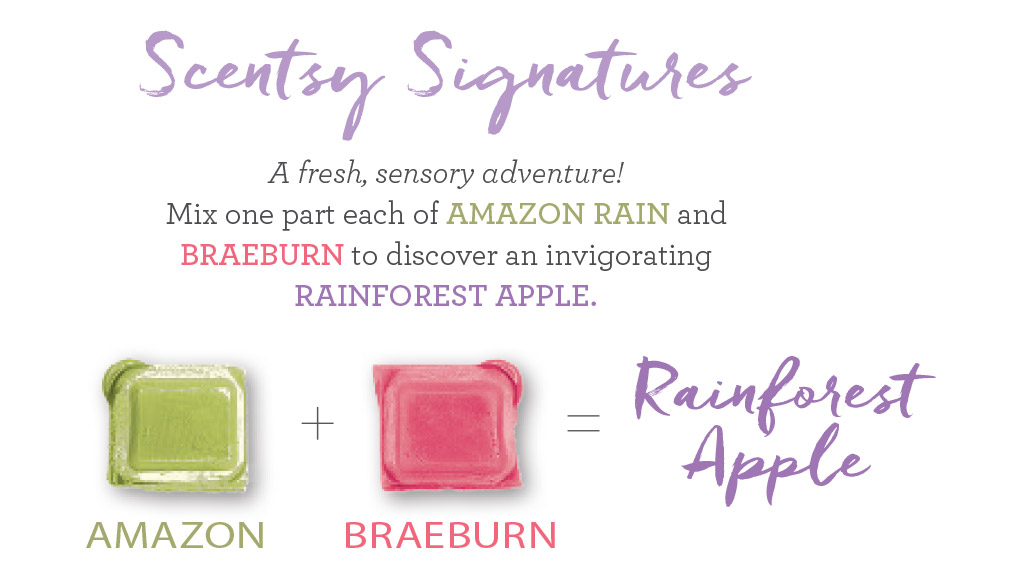 Look for notes that play well together. Read through the descriptions of the fragrances you love (either on your Consultant's website, in a catalog or here). Look for complementary ingredients in other scents and start mixing.
Opposites attract! Try mixing something bold and complex (like Black Raspberry Vanilla) with something more subtle and straightforward (like Sugar Cookie) or a single-note fragrance (like Simply Vanilla).
Make a memory. Did your grandma bake a famous cherry pie? Grab a couple of "ingredients" (say, Sugared Cherry and Baked Apple Pie) to recreate it.
Write it down. When you find a winning combination, be sure to take notes. Better yet, share it in the comments below so we can try it, too!
You're ready! Start digging through your Scentsy stash and follow these steps to create your own unique Scentsy fragrances:
Step 1:  Choose two Scentsy Bar or Scentsy Oil fragrances.

Step 2: Add both fragrances to your Warmer (Bars) or Diffuser (Oils).
Step 3: Turn it on and let your creation fill the space.
Step 4:  ENJOY! (Unless it's bad. Then toss it out and try, try again.)
Hey, matchmaker! After you master the two-scent combo, why not add a third fragrance? Think of all those amazing possibilities.
Looking for inspiration? Here are a few winning recipes, tried and tested by the Scentsy team:
Scentsy Bars:
Baked Apple Pie + Camu Camu
Luna + Shimmer
Bonfire Beach + Apple S'mores
Blueberry Rush + Sugared Cherry
Scentsy Oils:
Bergamot + Rose Chamomile Lavender
Lavender + Grapefruit Orange Vetiver
Eucalyptus + Lavender